Hellís Thunder informatie
Serie: Shards of Alara (ALA)
Rarity: Rare
Geef commentaar op Hellís Thunder
Hellís Thunder komt voor in
Serie
Normaal
Foil
Shards of Alara

6

0,60

-

2,50
Speed vs Cunning

6

0,50
Wie ruilt deze kaart

[]
Nickname
#
Foil
Jense (Utrecht) (8)
0
1
Stein (51)
1
0
Jan (120)
2
0
Freaklin (44)
2
0
Wouter (136)
2
0
stijn BE (42)
1
0
TimFakkel Arnhem (262)
2
0
Koen Dekker (31)
6
0
Steef Wildenbeest
1
0
Kenta (9)
1
0
Robbie (102)
1
0
SvM
1
0
G-men (96)
2
0
manson (4)
2
0
erwin (30)
1
0
Motork (45)
1
1
* Dit is het aanbod van Hellís Thunder uit Shards of Alara. Als een kaart in meerdere series zit kun je die apart aanklikken hierboven. Klik op de getallen om direct naar iemands collectie te gaan. De leden die het meest recent zijn ingelogd staan bovenaan. Leden die meer dan 14 dagen niet zijn ingelogd worden niet vermeld.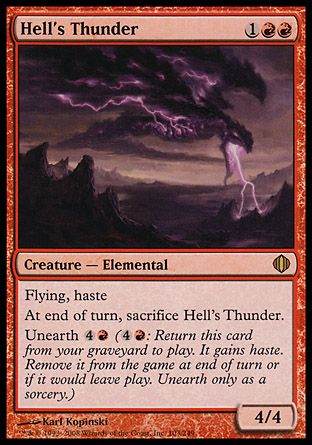 Oracle tekst

Creature - Elemental 4 / 4
Flying, haste
At the beginning of the end step, sacrifice Hell's Thunder.
Unearth 4R (4R: Return this card from your graveyard to the battlefield. It gains haste. Exile it at the beginning of the next end step or if it would leave the battlefield. Unearth only as a sorcery.)

Rating na 0 stemmen

Er is nog niet op deze kaart gestemd.

Tournooi info

Legal in: Modern, Legacy, Vintage, Commander

Officiele rulings

10/1/2008
If you activate a cardís unearth ability but that card is removed from your graveyard before the ability resolves, that unearth ability will resolve and do nothing.

10/1/2008
Activating a creature cardís unearth ability isnít the same as casting the creature card. The unearth ability is put on the stack, but the creature card is not. Spells and abilities that interact with activated abilities (such as Stifle) will interact with unearth, but spells and abilities that interact with spells (such as Remove Soul) will not.

10/1/2008
At the beginning of the end step, a creature returned to the battlefield with unearth is exiled. This is a delayed triggered ability, and it can be countered by effects such as Stifle or Voidslime that counter triggered abilities. If the ability is countered, the creature will stay on the battlefield and the delayed trigger wonít trigger again. However, the replacement effect will still exile the creature when it eventually leaves the battlefield.

10/1/2008
Unearth grants haste to the creature thatís returned to the battlefield. However, neither of the ďexileĒ abilities is granted to that creature. If that creature loses all its abilities, it will still be exiled at the beginning of the end step, and if it would leave the battlefield, it is still exiled instead.

10/1/2008
If a creature returned to the battlefield with unearth would leave the battlefield for any reason, itís exiled instead - unless the spell or ability thatís causing the creature to leave the battlefield is actually trying to exile it! In that case, it succeeds at exiling it. If it later returns the creature card to the battlefield (as Oblivion Ring or Flickerwisp might, for example), the creature card will return to the battlefield as a new object with no relation to its previous existence. The unearth effect will no longer apply to it.



NederMagic denkt mee

We hebben alle decks op de site voor je doorzocht en gekeken welke 20 kaarten het meest met Hellís Thunder samen worden gespeeld.
Klik hier voor het lijstje

Geef commentaar op Hellís Thunder
Zoek decks met Hellís Thunder
Hellís Thunder toevoegen aan je watchlist:
Versie uit Shards of Alara / Alle versies