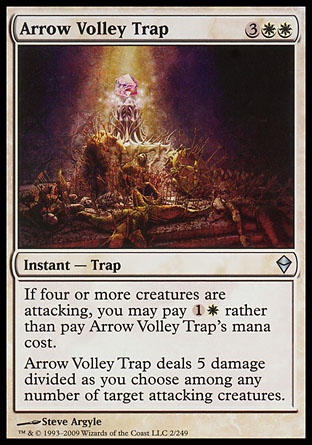 Oracle tekst

Instant - Trap
If four or more creatures are attacking, you may pay 1W rather than pay Arrow Volley Trap's mana cost.
Arrow Volley Trap deals 5 damage divided as you choose among any number of target attacking creatures.

Rating na 0 stemmen

Er is nog niet op deze kaart gestemd.

Tournooi info

Legal in: Modern, Block, Legacy, Vintage, Commander

Officiele rulings

10/1/2009
You may ignore a Trapís alternative cost condition and simply cast it for its normal mana cost. This is true even if its alternative cost condition has been met.

10/1/2009
Casting a Trap by paying its alternative cost doesnít change its mana cost or converted mana cost. The only difference is the cost you actually pay.

10/1/2009
Effects that increase or reduce the cost to cast a Trap will apply to whichever cost you chose to pay.

10/1/2009
The number of targets must be at least 1 and at most 5. You divide the damage as you cast Arrow Volley Trap, not as it resolves. Each target must be assigned at least 1 damage.



NederMagic denkt mee

We hebben alle decks op de site voor je doorzocht en gekeken welke 20 kaarten het meest met Arrow Volley Trap samen worden gespeeld.
Klik hier voor het lijstje

Geef commentaar op Arrow Volley Trap
Zoek decks met Arrow Volley Trap
Arrow Volley Trap toevoegen aan je watchlist:
Versie uit Zendikar / Alle versies