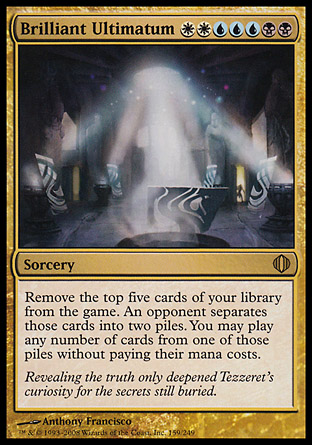 Oracle tekst

Sorcery
Exile the top five cards of your library. An opponent separates those cards into two piles. You may play any number of cards from one of those piles without paying their mana costs.

Rating na 1 stemmen












Tournooi info

Legal in: Modern, Legacy, Vintage, Commander

Officiele rulings

10/1/2008
The cards are exiled face up.

10/1/2008
One of the piles may have zero cards in it if the opponent wishes.

10/1/2008
You play cards from the chosen pile as part of the resolution of Brilliant Ultimatum. You may play them in any order. Timing restrictions based on the cardís type (such as creature or sorcery) are ignored. Other play restrictions are not (such as ďCast [this card] only during combatĒ). You play all of the cards you like, putting land onto the battlefield and spells on the stack, then Brilliant Ultimatum finishes resolving and is put into your graveyard. The spells you cast this way will then resolve as normal, one at a time, in the opposite order that they were put on the stack.

10/1/2008
You can play a land card from the chosen pile only if itís your turn (which it probably is, since Brilliant Ultimatum is a sorcery) and you havenít yet played a land this turn. That means that if there are two lands in the chosen pile, youíll be able to play a maximum of one of them.

10/1/2008
If you cast a card ďwithout paying its mana cost,Ē you canít pay any alternative costs. You can pay additional costs, such as conspire costs and kicker costs.

10/1/2008
The cards in the pile that wasnít chosen remain exiled. Likewise, any cards in the chosen pile that you canít play or you choose not to play remain exiled.



NederMagic denkt mee

We hebben alle decks op de site voor je doorzocht en gekeken welke 20 kaarten het meest met Brilliant Ultimatum samen worden gespeeld.
Klik hier voor het lijstje

Geef commentaar op Brilliant Ultimatum
Zoek decks met Brilliant Ultimatum
Brilliant Ultimatum toevoegen aan je watchlist:
Versie uit Shards of Alara / Alle versies