Boon Reflection informatie
Serie: Shadowmoor (SHM)
Rarity: Rare
Geef commentaar op Boon Reflection
Boon Reflection komt voor in
Serie
Normaal
Foil
Shadowmoor

-

5,95

1

9,95
Wie ruilt deze kaart

[]
Nickname
#
Foil
Djilan (370)
1
0
Marnix14 (Eindhoven) (17)
2
0
Freaklin (44)
1
0
Mabo (Delft)
1
0
Wouter (136)
1
0
Marc (163)
2
0
jens (14)
1
0
* Dit is het aanbod van Boon Reflection uit Shadowmoor. Als een kaart in meerdere series zit kun je die apart aanklikken hierboven. Klik op de getallen om direct naar iemands collectie te gaan. De leden die het meest recent zijn ingelogd staan bovenaan. Leden die meer dan 14 dagen niet zijn ingelogd worden niet vermeld.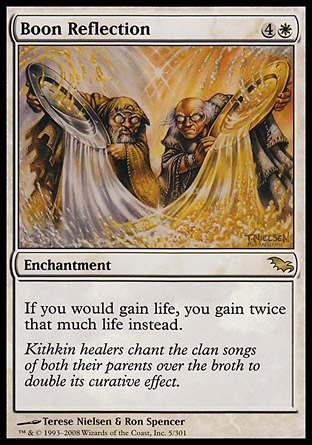 Oracle tekst

Enchantment
If you would gain life, you gain twice that much life instead.

Rating na 2 stemmen












Tournooi info

Legal in: Modern, Legacy, Vintage, Commander

Officiele rulings

5/1/2008
Boon Reflection doesn't cause you to gain life. Rather, it causes life-gaining effects to have you gain more life.

5/1/2008
The effects of multiple Boon Reflections are cumulative. For example, if you have three Boon Reflections on the battlefield, you'll gain eight times the original amount of life.

5/1/2008
If an effect says to set your life total to a certain number, and that number is higher than your current life total, that effect will cause you to gain life equal to the difference. Boon Reflection will double that number. For example, if you have 13 life and Blessed Wind causes your life total to become 20, your life total will actually become 27.

5/1/2008
In a Two-Headed Giant game, only Boon Reflection's controller is affected by it. If that player's teammate gains life, Boon Reflection will have no effect, even when that life gain is applied to the shared team life total.



NederMagic denkt mee

We hebben alle decks op de site voor je doorzocht en gekeken welke 20 kaarten het meest met Boon Reflection samen worden gespeeld.
Klik hier voor het lijstje

Geef commentaar op Boon Reflection
Zoek decks met Boon Reflection
Boon Reflection toevoegen aan je watchlist:
Versie uit Shadowmoor / Alle versies