Advice from the Fae informatie
Serie: Shadowmoor (SHM)
Rarity: Uncommon
Geef commentaar op Advice from the Fae
Advice from the Fae komt voor in
Serie
Normaal
Foil
Shadowmoor

7

0,15

1

0,50
Wie ruilt deze kaart

[]
Nickname
#
Foil
molotoz (34)
1
0
Wouter (136)
6
0
Nessix (2)
1
0
* Dit is het aanbod van Advice from the Fae uit Shadowmoor. Als een kaart in meerdere series zit kun je die apart aanklikken hierboven. Klik op de getallen om direct naar iemands collectie te gaan. De leden die het meest recent zijn ingelogd staan bovenaan. Leden die meer dan 14 dagen niet zijn ingelogd worden niet vermeld.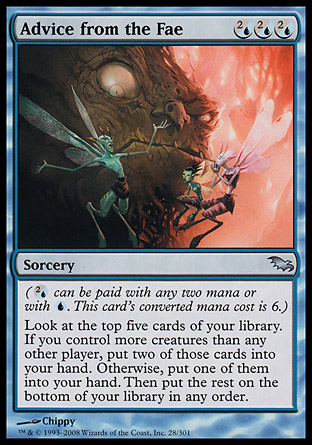 Oracle tekst

Sorcery
((2/U) can be paid with any two mana or with U. This card's converted mana cost is 6.)
Look at the top five cards of your library. If you control more creatures than each other player, put two of those cards into your hand. Otherwise, put one of them into your hand. Then put the rest on the bottom of your library in any order.

Rating na 0 stemmen

Er is nog niet op deze kaart gestemd.

Tournooi info

Legal in: Modern, Legacy, Vintage, Commander

Officiele rulings

5/1/2008
If an effect reduces the cost to cast a spell by an amount of generic mana, it applies to a monocolored hybrid spell only if you've chosen a method of paying for it that includes generic mana.

5/1/2008
A card with a monocolored hybrid mana symbol in its mana cost is each of the colors that appears in its mana cost, regardless of what mana was spent to cast it. Thus, Advice from the Fae is blue, even if you spend six black mana to cast it.

5/1/2008
A card with monocolored hybrid mana symbols in its mana cost has a converted mana cost equal to the highest possible cost it could be cast for. Its converted mana cost never changes. Thus, Advice from the Fae has a converted mana cost of 6, even if you spend UUU to cast it.

5/1/2008
If a cost includes more than one monocolored hybrid mana symbol, you can choose a different way to pay for each symbol. For example, you can pay for Advice from the Fae by spending UUU, 2UU, 4U, or 6.

5/1/2008
In a multiplayer game, compare the number of creatures you control with the number of creatures each other player controls. If any single player controls at least as many creatures as you, you get to put only one card into your hand.



NederMagic denkt mee

We hebben alle decks op de site voor je doorzocht en gekeken welke 20 kaarten het meest met Advice from the Fae samen worden gespeeld.
Klik hier voor het lijstje

Geef commentaar op Advice from the Fae
Zoek decks met Advice from the Fae
Advice from the Fae toevoegen aan je watchlist:
Versie uit Shadowmoor / Alle versies