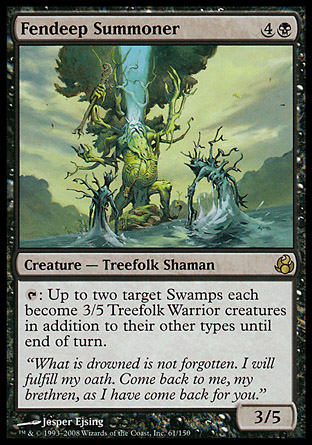 Oracle tekst

Creature - Treefolk Shaman 3 / 5
T: Up to two target Swamps each become 3/5 Treefolk Warrior creatures in addition to their other types until end of turn.

Rating na 0 stemmen

Er is nog niet op deze kaart gestemd.

NederMagic FAQ

Vraag: Wallpaper?
Antwoord: hier

Tournooi info

Legal in: Modern, Legacy, Vintage, Commander

Officiele rulings

4/1/2008
You may target zero, one, or two Swamps with this ability.

4/1/2008
A Swamp affected by this ability is still a land, still a Swamp, and may still be tapped for black mana. If it had any other card types or subtypes, it retains those as well. This ability doesn't affect the permanent's colors, if any.

4/1/2008
A Swamp affected by this ability is subject to the "summoning sickness" rule: If its controller hasn't continuously controlled it since the beginning of their most recent turn, it can't attack or be tapped for mana (or use any other T abilities).



NederMagic denkt mee

We hebben alle decks op de site voor je doorzocht en gekeken welke 20 kaarten het meest met Fendeep Summoner samen worden gespeeld.
Klik hier voor het lijstje

Geef commentaar op Fendeep Summoner
Zoek decks met Fendeep Summoner
Fendeep Summoner toevoegen aan je watchlist:
Versie uit Morningtide / Alle versies