Power Armor informatie
Serie: Phyrexia vs Coalition (PVC)
Rarity: Uncommon
Geef commentaar op Power Armor
Power Armor komt voor in
Serie
Normaal
Foil
Invasion

8

0,20

-

0,50
Phyrexia vs Coalition

8

0,20
Wie ruilt deze kaart

[]
Nickname
#
Foil
Jeroen kluyt (8)
1
0
* Dit is het aanbod van Power Armor uit Phyrexia vs Coalition. Als een kaart in meerdere series zit kun je die apart aanklikken hierboven. Klik op de getallen om direct naar iemands collectie te gaan. De leden die het meest recent zijn ingelogd staan bovenaan. Leden die meer dan 14 dagen niet zijn ingelogd worden niet vermeld.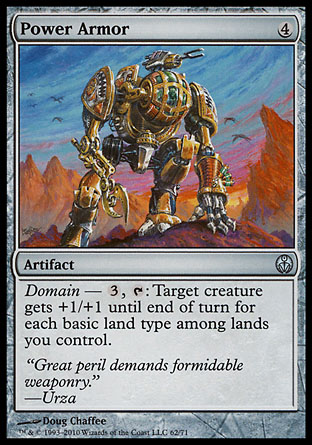 Oracle tekst

Artifact
Domain - 3, T: Target creature gets +1/+1 until end of turn for each basic land type among lands you control.

Rating na 0 stemmen

Er is nog niet op deze kaart gestemd.

Tournooi info

Legal in: Legacy, Vintage, Commander

Officiele rulings

2/1/2009
To determine the number of basic land types among lands you control, look at the lands you have on the battlefield and ask yourself whether the subtypes Plains, Island, Swamp, Mountain, and Forest appear within that group. The number of times you say yes (topping out at five) tells you how powerful your domain abilities will be.

2/1/2009
How many lands you control of a particular basic land type is irrelevant to a domain ability, as long as that number is greater than zero. As far as domain is concerned, ten Forests is the same as one Forest.

2/1/2009
A number of nonbasic lands have basic land types. Domain abilities don't count the number of lands you control - they count the number of basic land types among lands you control, even if that means checking the same land twice. For example, if you control a Tundra, an Overgrown Tomb, and a Madblind Mountain, you'll have a Plains, Island, Swamp, Mountain, and Forest among the lands you control. Your domain abilities will be maxed out.



NederMagic denkt mee

We hebben alle decks op de site voor je doorzocht en gekeken welke 20 kaarten het meest met Power Armor samen worden gespeeld.
Klik hier voor het lijstje

Geef commentaar op Power Armor
Zoek decks met Power Armor
Power Armor toevoegen aan je watchlist:
Versie uit Phyrexia vs Coalition / Alle versies