Bake into a Pie informatie
Serie: Throne of Eldraine (ELD)
Rarity: Common
Geef commentaar op Bake into a Pie
Bake into a Pie komt voor in
Serie
Normaal
Foil
Throne of Eldraine

8

0,20

-

0,40
Wie ruilt deze kaart

[]
Nickname
#
Foil
Epyplatz (0)
1
0
* Dit is het aanbod van Bake into a Pie uit Throne of Eldraine. Als een kaart in meerdere series zit kun je die apart aanklikken hierboven. Klik op de getallen om direct naar iemands collectie te gaan. De leden die het meest recent zijn ingelogd staan bovenaan. Leden die meer dan 14 dagen niet zijn ingelogd worden niet vermeld.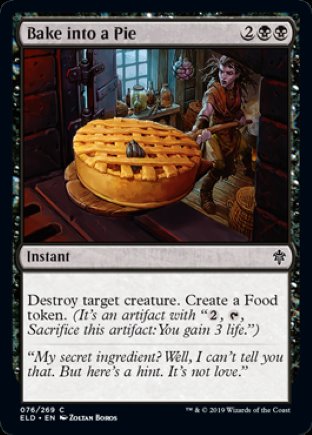 Oracle tekst

Instant
Destroy target creature. Create a Food token. (It's an artifact with "2, T, Sacrifice this artifact: You gain 3 life.")

Rating na 0 stemmen

Er is nog niet op deze kaart gestemd.

Tournooi info

Legal in: Standard, Modern, Legacy, Vintage, Commander

Officiele rulings

10/4/2019
Some spells that instruct you to create a Food token have targets. You canít cast these spells without choosing all required targets, and if all of those targets become illegal targets, the spell wonít resolve and you wonít create any Food. If some but not all of those targets become illegal, youíll do as much as possible, including creating Food.

10/4/2019
Food is an artifact type. Even though it appears on some creatures (such as Gingerbrute), itís never a creature type.

10/4/2019
You canít sacrifice a Food token to pay multiple costs. For example, you canít sacrifice a Food token to activate its own ability and also to activate the ability of Tempting Witch.

10/4/2019
Whatever you do, donít eat the delicious cards.



NederMagic denkt mee

We hebben alle decks op de site voor je doorzocht en gekeken welke 20 kaarten het meest met Bake into a Pie samen worden gespeeld.
Klik hier voor het lijstje

Geef commentaar op Bake into a Pie
Zoek decks met Bake into a Pie
Bake into a Pie toevoegen aan je watchlist:
Versie uit Throne of Eldraine / Alle versies