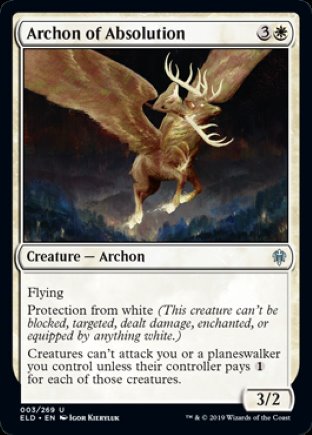 Oracle tekst

Creature - Archon 3 / 2
Flying
Protection from white (This creature can't be blocked, targeted, dealt damage, enchanted, or equipped by anything white.)
Creatures can't attack you or a planeswalker you control unless their controller pays 1 for each of those creatures.

Rating na 0 stemmen

Er is nog niet op deze kaart gestemd.

Tournooi info

Legal in: Standard, Modern, Legacy, Vintage, Commander

Officiele rulings

10/4/2019
Your opponents can choose not to pay to attack with a creature that attacks "if able." If there's no other player or planeswalker to attack, that creature simply doesn't attack.

10/4/2019
In a Two-Headed Giant game, creatures can attack your teammate and planeswalkers your teammate controls without requiring a mana payment.



NederMagic denkt mee

We hebben alle decks op de site voor je doorzocht en gekeken welke 20 kaarten het meest met Archon of Absolution samen worden gespeeld.
Klik hier voor het lijstje

Geef commentaar op Archon of Absolution
Zoek decks met Archon of Absolution
Archon of Absolution toevoegen aan je watchlist:
Versie uit Throne of Eldraine / Alle versies