Domri, Chaos Bringer informatie
Serie: Ravnica Allegiance (RNA)
Rarity: Mythic
Geef commentaar op Domri, Chaos Bringer
Domri, Chaos Bringer komt voor in
Serie
Normaal
Foil
Ravnica Allegiance

-

3,95

-

9,95
Wie ruilt deze kaart

[]
Nickname
#
Foil
Peter (122)
1
0
Tess (2)
2
0
Martin (99)
3
0
Sander de Leeuw (97)
2
0
Patrick (101)
1
0
Ewan van Houten (7)
1
0
XsliverX (108)
1
0
The Claws ->Wolverine<- (36)
1
0
* Dit is het aanbod van Domri, Chaos Bringer uit Ravnica Allegiance. Als een kaart in meerdere series zit kun je die apart aanklikken hierboven. Klik op de getallen om direct naar iemands collectie te gaan. De leden die het meest recent zijn ingelogd staan bovenaan. Leden die meer dan 14 dagen niet zijn ingelogd worden niet vermeld.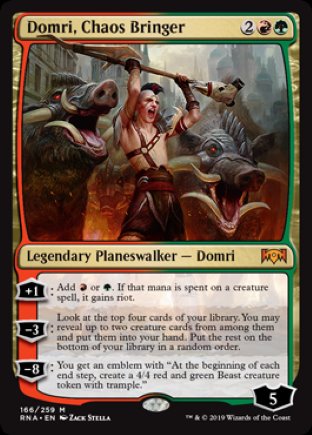 Oracle tekst

Legendary Planeswalker - Domri
+1: Add R or G. If that mana is spent on a creature spell, it gains riot. (It enters the battlefield with your choice of a +1/+1 counter or haste.)
-3: Look at the top four cards of your library. You may reveal up to two creature cards from among them and put them into your hand. Put the rest on the bottom of your library in a random order.
-8: You get an emblem with "At the beginning of each end step, create a 4/4 red and green Beast creature token with trample."

Rating na 0 stemmen

Er is nog niet op deze kaart gestemd.

Tournooi info

Legal in: Standard, Modern, Legacy, Vintage, Commander

Officiele rulings

1/25/2019
Because itís a loyalty ability, Domriís first ability isnít a mana ability. It can be activated only any time you could cast a sorcery. It uses the stack and can be responded to.

1/25/2019
Riot is a replacement effect. Players canít respond to your choice of +1/+1 counter or haste, and they canít take actions while the creature is on the battlefield without one or the other.

1/25/2019
If a creature entering the battlefield has riot but canít have a +1/+1 counter put onto it, it gains haste.

1/25/2019
If you choose for the creature to gain haste, it gains haste indefinitely. It wonít lose it as the turn ends or as another player gains control of it.

1/25/2019
If a creature enters the battlefield with two instances of riot, you may choose to have it get two +1/+1 counters, one +1/+1 counter and haste, or two instances of haste. Multiple instances of haste on the same creature are redundant, but weíre not going to tell the Gruul how to live their lives.



NederMagic denkt mee

We hebben alle decks op de site voor je doorzocht en gekeken welke 20 kaarten het meest met Domri, Chaos Bringer samen worden gespeeld.
Klik hier voor het lijstje

Geef commentaar op Domri, Chaos Bringer
Zoek decks met Domri, Chaos Bringer
Domri, Chaos Bringer toevoegen aan je watchlist:
Versie uit Ravnica Allegiance / Alle versies