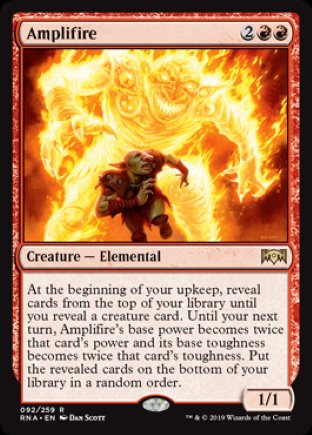 Oracle tekst

Creature - Elemental 1 / 1
At the beginning of your upkeep, reveal cards from the top of your library until you reveal a creature card. Until your next turn, Amplifire's base power becomes twice that card's power and its base toughness becomes twice that card's toughness. Put the revealed cards on the bottom of your library in a random order.

Rating na 0 stemmen

Er is nog niet op deze kaart gestemd.

Tournooi info

Legal in: Standard, Modern, Legacy, Vintage, Commander

Officiele rulings

1/25/2019
Amplifire will be a 1/1 creature from the time your untap step begins until the time its triggered ability resolves during your upkeep.

1/25/2019
Any effects that modify Amplifireís power and/or toughness without setting them to a specific number or value will apply after its base power and toughness are set, regardless of the order in which those effects were created. The same is true of counters that modify its power and toughness.

1/25/2019
If you reveal your entire library and donít reveal a creature card, Amplifire becomes a 0/0 creature and you put your library back in a random order.



NederMagic denkt mee

We hebben alle decks op de site voor je doorzocht en gekeken welke 20 kaarten het meest met Amplifire samen worden gespeeld.
Klik hier voor het lijstje

Geef commentaar op Amplifire
Zoek decks met Amplifire
Amplifire toevoegen aan je watchlist:
Versie uit Ravnica Allegiance / Alle versies