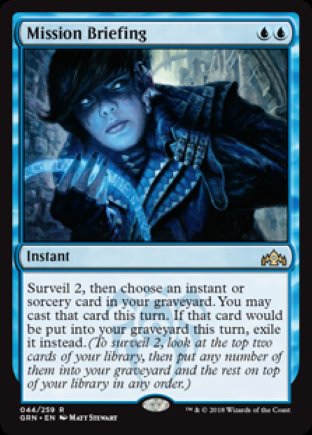 Oracle tekst

Instant
Surveil 2, then choose an instant or sorcery card in your graveyard. You may cast that card this turn. If that card would be put into your graveyard this turn, exile it instead. (To surveil 2, look at the top two cards of your library, then put any number of them into your graveyard and the rest on top of your library in any order.)

Rating na 0 stemmen

Er is nog niet op deze kaart gestemd.

Tournooi info

Legal in: Standard, Modern, Legacy, Vintage, Commander

Officiele rulings

10/5/2018
The instant or sorcery card you choose may be one that you just surveilled into your graveyard.

10/5/2018
Mission Briefing doesnít change when you can cast the chosen card. For example, if you choose a sorcery card, you can cast it only during your main phase when the stack is empty.

10/5/2018
Mission Briefing is still on the stack while you choose an instant or sorcery card in your graveyard. Your Mission Briefing canít be to give yourself that same Mission Briefing.

10/5/2018
If you cast a spell this way and that card is exiled, itís considered a new object in the zone itís put into. It wonít be exiled if itís put into your graveyard later in the turn.

10/5/2018
When you surveil, you may put all the cards you look at back on top of your library, you may put all of those cards into your graveyard, or you may put some of those cards on top and the rest of them into your graveyard.

10/5/2018
You perform the actions stated on a card in sequence. For some spells and abilities, youíll surveil last. For others, youíll surveil and then perform other actions.



NederMagic denkt mee

We hebben alle decks op de site voor je doorzocht en gekeken welke 20 kaarten het meest met Mission Briefing samen worden gespeeld.
Klik hier voor het lijstje

Geef commentaar op Mission Briefing
Zoek decks met Mission Briefing
Mission Briefing toevoegen aan je watchlist:
Versie uit Guilds of Ravnica / Alle versies