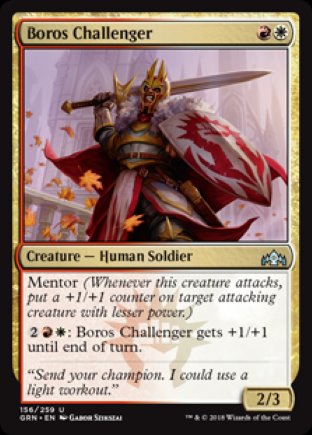 Oracle tekst

Creature - Human Soldier 2 / 3
Mentor (Whenever this creature attacks, put a +1/+1 counter on target attacking creature with lesser power.)
2RW: Boros Challenger gets +1/+1 until end of turn.

Rating na 0 stemmen

Er is nog niet op deze kaart gestemd.

Tournooi info

Legal in: Standard, Modern, Legacy, Vintage, Commander

Officiele rulings

10/5/2018
Mentor compares the power of the creature with mentor with that of the target creature at two different times: once as the triggered ability is put onto the stack, and once as the triggered ability resolves. If you wish to raise a creature's power so its mentor ability can target a bigger creature, the last chance you have to do so is during the beginning of combat step.

10/5/2018
If the target creature's power is no longer less than the attacking creature's power as the ability resolves, mentor doesn't add a +1/+1 counter. For example, if two 3/3 creatures with mentor attack and both mentor triggers target the same 2/2 creature, the first to resolve puts a +1/+1 counter on it and the second does nothing.

10/5/2018
If the creature with mentor leaves the battlefield with mentor on the stack, use its power as that creature last existed on the battlefield to determine whether the target creature has less power.



NederMagic denkt mee

We hebben alle decks op de site voor je doorzocht en gekeken welke 20 kaarten het meest met Boros Challenger samen worden gespeeld.
Klik hier voor het lijstje

Geef commentaar op Boros Challenger
Zoek decks met Boros Challenger
Boros Challenger toevoegen aan je watchlist:
Versie uit Guilds of Ravnica / Alle versies