Wie ruilt deze kaart

[]
Nickname
#
Foil
Martin (99)
1
0
Roy (174)
1
0
Peter (120)
0
1
Nessix (2)
1
0
Jurian Oude Engberink (Deventer) (56)
1
0
manson (4)
1
0
Casper (63)
2
0
Stefan Gordijn (3)
1
0
Jeroen S. (9)
2
0
* Dit is het aanbod van Banefire uit M19. Als een kaart in meerdere series zit kun je die apart aanklikken hierboven. Klik op de getallen om direct naar iemands collectie te gaan. De leden die het meest recent zijn ingelogd staan bovenaan. Leden die meer dan 14 dagen niet zijn ingelogd worden niet vermeld.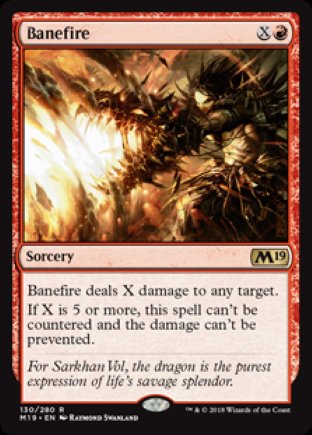 Oracle tekst

Sorcery
Banefire deals X damage to any target.
If X is 5 or more, this spell can't be countered and the damage can't be prevented.

Rating na 5 stemmen












Tournooi info

Legal in: Standard, Modern, Legacy, Vintage, Commander

Officiele rulings

7/13/2018
To determine whether it can be countered and its damage can be prevented, Banefire checks the number you chose for X, not the amount of mana you actually spent or the amount of damage it will actually deal.

7/13/2018
Banefire can be targeted by spells that try to counter it regardless of what the value of X is. If X is 5 or more, those spells will still resolve, but the part of their effect that would counter Banefire wonít do anything. Any other effects those spells have will work as normal.

7/13/2018
If its target is illegal by the time Banefire tries to resolve, the spell isnít countered, but it doesnít resolve. The target wonít be dealt damage.



NederMagic denkt mee

We hebben alle decks op de site voor je doorzocht en gekeken welke 20 kaarten het meest met Banefire samen worden gespeeld.
Klik hier voor het lijstje

Geef commentaar op Banefire
Zoek decks met Banefire
Banefire toevoegen aan je watchlist:
Versie uit M19 / Alle versies