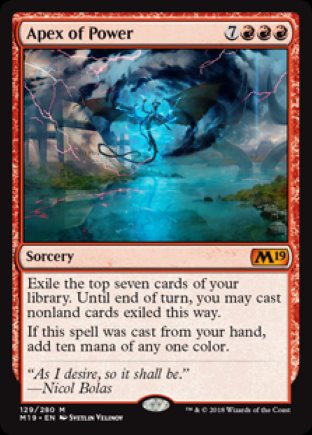 Oracle tekst

Sorcery
Exile the top seven cards of your library. Until end of turn, you may cast nonland cards exiled this way.
If this spell was cast from your hand, add ten mana of any one color.

Rating na 0 stemmen

Er is nog niet op deze kaart gestemd.

Tournooi info

Legal in: Standard, Modern, Legacy, Vintage, Commander

Officiele rulings

7/13/2018
Apex of Power doesnít change when you can cast the exiled cards. For example, if you exile a sorcery card, you can cast it only during your main phase when the stack is empty.

7/13/2018
Casting an exiled card causes it to leave exile. You canít cast it multiple times.

7/13/2018
Any cards not cast, including land cards, remain in exile.

7/13/2018
If an effect copies Apex of Power, the copy wasnít cast at all, so you wonít add ten mana.



NederMagic denkt mee

We hebben alle decks op de site voor je doorzocht en gekeken welke 20 kaarten het meest met Apex of Power samen worden gespeeld.
Klik hier voor het lijstje

Geef commentaar op Apex of Power
Zoek decks met Apex of Power
Apex of Power toevoegen aan je watchlist:
Versie uit M19 / Alle versies