Wayward Swordtooth informatie
Serie: Rivals of Ixalan (RIX)
Rarity: Rare
Geef commentaar op Wayward Swordtooth
Wayward Swordtooth komt voor in
Serie
Normaal
Foil
Rivals of Ixalan

-

3,95

-

7,95
Wie ruilt deze kaart

[]
Nickname
#
Foil
T (103)
1
0
Martin (99)
4
0
Ingmar (33)
1
0
Yorick Karseboom (7)
1
0
Tess (2)
1
0
* Dit is het aanbod van Wayward Swordtooth uit Rivals of Ixalan. Als een kaart in meerdere series zit kun je die apart aanklikken hierboven. Klik op de getallen om direct naar iemands collectie te gaan. De leden die het meest recent zijn ingelogd staan bovenaan. Leden die meer dan 14 dagen niet zijn ingelogd worden niet vermeld.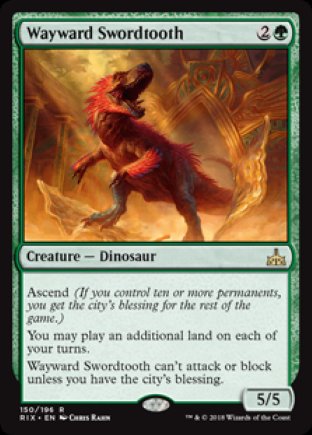 Oracle tekst

Creature - Dinosaur 5 / 5
Ascend (If you control ten or more permanents, you get the city's blessing for the rest of the game.)
You may play an additional land on each of your turns.
Wayward Swordtooth can't attack or block unless you have the city's blessing.

Rating na 0 stemmen

Er is nog niet op deze kaart gestemd.

Tournooi info

Legal in: Standard, Modern, Legacy, Vintage, Commander

Officiele rulings

1/19/2018
Wayward Swordtoothís middle ability is cumulative if you control more than one. Itís also cumulative with other effects that let you play additional lands, such as the one from Enter the Unknown.

1/19/2018
Once you have the cityís blessing, you have it for the rest of the game, even if you lose control of some or all of your permanents. The cityís blessing isnít a permanent itself and canít be removed by any effect.

1/19/2018
A permanent is any object on the battlefield, including tokens and lands. Spells and emblems arenít permanents.

1/19/2018
If you cast a spell with ascend, you donít get the cityís blessing until it resolves. Players may respond to that spell by trying to change whether you get the cityís blessing.

1/19/2018
If you control ten permanents but donít control a permanent or resolving spell with ascend, you donít get the cityís blessing. For example, if you control ten permanents, lose control of one, then cast Golden Demise, you wonít have the cityís blessing and the spell will affect creatures you control.

1/19/2018
If your tenth permanent enters the battlefield and then a permanent leaves the battlefield immediately afterwards (most likely due to the ďLegend RuleĒ or due to being a creature with 0 toughness), you get the cityís blessing before it leaves the battlefield.

1/19/2018
Ascend on a permanent isnít a triggered ability and doesnít use the stack. Players can respond to a spell that will give you your tenth permanent, but they canít respond to getting the cityís blessing once you control that tenth permanent. This means that if your tenth permanent is a land you play, players canít respond before you get the cityís blessing.



NederMagic denkt mee

We hebben alle decks op de site voor je doorzocht en gekeken welke 20 kaarten het meest met Wayward Swordtooth samen worden gespeeld.
Klik hier voor het lijstje

Geef commentaar op Wayward Swordtooth
Zoek decks met Wayward Swordtooth
Wayward Swordtooth toevoegen aan je watchlist:
Versie uit Rivals of Ixalan / Alle versies