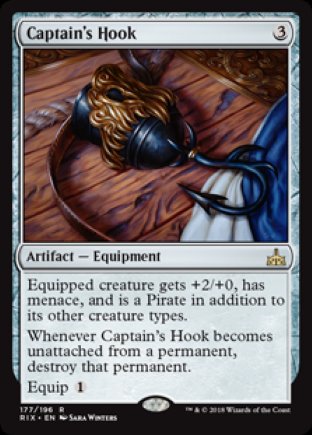 Oracle tekst

Artifact - Equipment
Equipped creature gets +2/+0, has menace, and is a Pirate in addition to its other creature types.
Whenever Captain's Hook becomes unattached from a permanent, destroy that permanent.
Equip 1

Rating na 0 stemmen

Er is nog niet op deze kaart gestemd.

Tournooi info

Legal in: Standard, Modern, Legacy, Vintage, Commander

Officiele rulings

1/19/2018
Captainís Hook becomes unattached from the creature itís equipping if you equip it to a new creature, if Captainís Hook leaves the battlefield, if the equipped creature ceases to be a creature, or if Captainís Hook ceases to be an Equipment. (It also becomes unattached if the equipped creature leaves the battlefield, but the triggered ability wonít do anything in that case.)



NederMagic denkt mee

We hebben alle decks op de site voor je doorzocht en gekeken welke 20 kaarten het meest met Captainís Hook samen worden gespeeld.
Klik hier voor het lijstje

Geef commentaar op Captainís Hook
Zoek decks met Captainís Hook
Captainís Hook toevoegen aan je watchlist:
Versie uit Rivals of Ixalan / Alle versies