Blood Sun informatie
Serie: Rivals of Ixalan (RIX)
Rarity: Rare
Geef commentaar op Blood Sun
Blood Sun komt voor in
Serie
Normaal
Foil
Rivals of Ixalan

8

4,95

1

24,95
Wie ruilt deze kaart

[]
Nickname
#
Foil
Casper (60)
1
0
adje13 (21)
1
0
Martin (97)
2
1
Roel & Suzanne (26)
1
0
Ingmar (28)
3
0
Peter (101)
3
0
Djilan (361)
1
0
Cornholio
1
0
elias alkmaar
1
0
T (97)
3
0
Niels27
1
0
Snippedd
1
0
Patrick (101)
1
0
NielsvDiepen (16)
1
0
Wouter Pegtel (66)
1
0
Tim,The Holy day Collector (15)
1
0
Chris072 (62)
1
0
Silav101 (40)
1
0
* Dit is het aanbod van Blood Sun uit Rivals of Ixalan. Als een kaart in meerdere series zit kun je die apart aanklikken hierboven. Klik op de getallen om direct naar iemands collectie te gaan. De leden die het meest recent zijn ingelogd staan bovenaan. Leden die meer dan 14 dagen niet zijn ingelogd worden niet vermeld.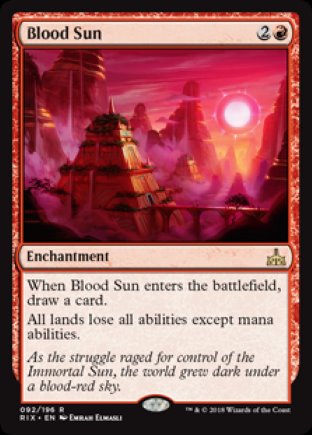 Oracle tekst

Enchantment
When Blood Sun enters the battlefield, draw a card.
All lands lose all abilities except mana abilities.

Rating na 1 stemmen












Tournooi info

Legal in: Standard, Modern, Block, Legacy, Vintage, Commander

Officiele rulings

1/19/2018
A mana ability is an ability that produces mana, not an ability that costs mana.

1/19/2018
Land cards not on the battlefield aren't affected.

1/19/2018
If a land has an ability that triggers "when" it enters the battlefield, it will lose that ability before it triggers.

1/19/2018
If a land has an ability that causes it to enter the battlefield tapped, it will lose that ability before it applies. The same is also true of any other abilities of a land that modify how it enters the battlefield or apply "as" it enters the battlefield, such as the first ability of Unclaimed Territory.

1/19/2018
If a land gains an ability after Blood Sun has entered the battlefield, it keeps that ability.

1/19/2018
If a land has an ability that continuously changes the types of other lands (such as Urborg, Tomb of Yawgmoth does), that ability will apply before Blood Sun removes that land's abilities. If a land has an ability that grants abilities to other objects, Blood Sun will stop it from doing so.



NederMagic denkt mee

We hebben alle decks op de site voor je doorzocht en gekeken welke 20 kaarten het meest met Blood Sun samen worden gespeeld.
Klik hier voor het lijstje

Geef commentaar op Blood Sun
Zoek decks met Blood Sun
Blood Sun toevoegen aan je watchlist:
Versie uit Rivals of Ixalan / Alle versies