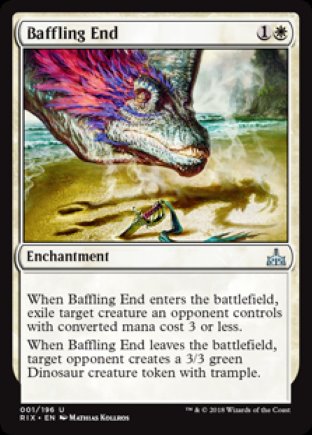 Oracle tekst

Enchantment
When Baffling End enters the battlefield, exile target creature an opponent controls with converted mana cost 3 or less.
When Baffling End leaves the battlefield, target opponent creates a 3/3 green Dinosaur creature token with trample.

Rating na 0 stemmen

Er is nog niet op deze kaart gestemd.

Officiele rulings

1/19/2018
While Baffling Endís two abilities are flavorfully related, they are independent. If the first ability doesnít resolve (perhaps because the target gained hexproof), the second will still create a Dinosaur token when Baffling End leaves the battlefield.

1/19/2018
In a multiplayer game, the target opponent who creates a Dinosaur token doesnít have to be the same one whose creature was exiled.



NederMagic denkt mee

We hebben alle decks op de site voor je doorzocht en gekeken welke 20 kaarten het meest met Baffling End samen worden gespeeld.
Klik hier voor het lijstje

Geef commentaar op Baffling End
Zoek decks met Baffling End
Baffling End toevoegen aan je watchlist:
Versie uit Rivals of Ixalan / Alle versies