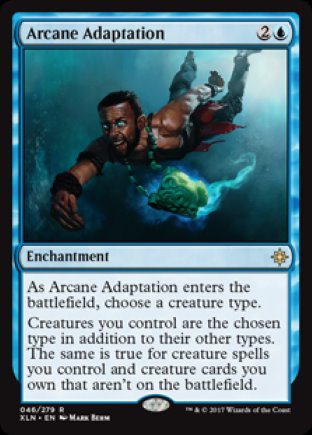 Oracle tekst

Enchantment
As Arcane Adaptation enters the battlefield, choose a creature type.
Creatures you control are the chosen type in addition to their other types. The same is true for creature spells you control and creature cards you own that aren't on the battlefield.

Rating na 0 stemmen

Er is nog niet op deze kaart gestemd.

Tournooi info

Legal in: Standard, Modern, Legacy, Vintage, Commander

Officiele rulings

9/29/2017
Replacement effects that modify creatures of a certain type as they enter the battlefield will apply after you apply Arcane Adaptationís effect. This is a change from previous rules. If you control Arcane Adaptation and the Aether Revolt card Metallic Mimic, with the same creature type chosen for both, then any creature you control will enter the battlefield with an additional +1/+1 counter on it.

1/19/2018
To choose a creature type, you must choose an existing creature type, such as Vampire or Knight. You canít choose multiple creature types, such as ďVampire Knight.Ē Card types such as artifact canít be chosen, nor can subtypes that arenít creature types, such as Jace, Vehicle, or Treasure.



NederMagic denkt mee

We hebben alle decks op de site voor je doorzocht en gekeken welke 20 kaarten het meest met Arcane Adaptation samen worden gespeeld.
Klik hier voor het lijstje

Geef commentaar op Arcane Adaptation
Zoek decks met Arcane Adaptation
Arcane Adaptation toevoegen aan je watchlist:
Versie uit Ixalan / Alle versies