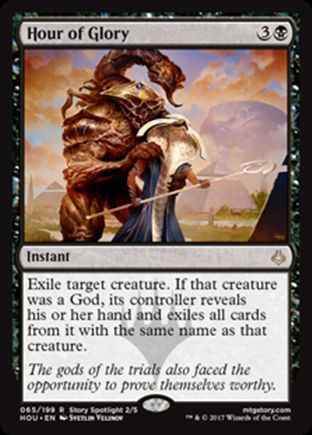 Oracle tekst

Instant
Exile target creature. If that creature was a God, its controller reveals his or her hand and exiles all cards from it with the same name as that creature.

Rating na 0 stemmen

Er is nog niet op deze kaart gestemd.

Tournooi info

Legal in: Standard, Modern, Block, Legacy, Vintage, Commander

Officiele rulings

7/14/2017
If the target creature is an illegal target by the time Hour of Glory resolves, the entire spell is countered. No player reveals his or her hand or exiles cards from it.

7/14/2017
There are many important moments in the story, but the most crucial-called "story spotlights"-are shown on cards. You can read more about these events in the official Magic fiction at http://www.mtgstory.com.



NederMagic denkt mee

We hebben alle decks op de site voor je doorzocht en gekeken welke 20 kaarten het meest met Hour of Glory samen worden gespeeld.
Klik hier voor het lijstje

Geef commentaar op Hour of Glory
Zoek decks met Hour of Glory
Hour of Glory toevoegen aan je watchlist:
Versie uit Hour of Devastation / Alle versies