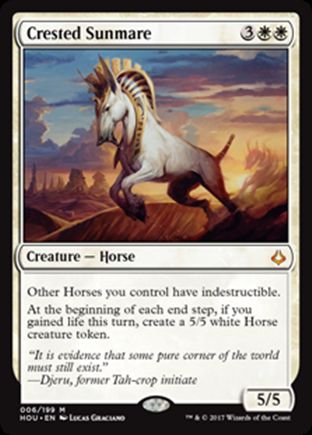 Oracle tekst

Creature - Horse 5 / 5
Other Horses you control have indestructible.
At the beginning of each end step, if you gained life this turn, create a 5/5 white Horse creature token.

Rating na 0 stemmen

Er is nog niet op deze kaart gestemd.

Tournooi info

Legal in: Standard, Modern, Block, Legacy, Vintage, Commander

Officiele rulings

7/14/2017
If a creature has been dealt damage, that damage remains marked on it until the cleanup step. If another Horse you control has been dealt lethal damage, and later in the turn Crested Sunmare leaves the battlefield, that Horse will be destroyed.

7/14/2017
Crested Sunmare's triggered ability won't trigger unless you've gained life in the turn before the end step began. It can't be satisfied by another triggered ability causing you to gain life during that end step.

7/14/2017
Crested Sunmare's triggered ability cares only whether you gained life in the turn, even if Crested Sunmare wasn't on the battlefield when that happened. It doesn't care how much you gained, whether you also lost life, or even whether you lost more life than you gained.



NederMagic denkt mee

We hebben alle decks op de site voor je doorzocht en gekeken welke 20 kaarten het meest met Crested Sunmare samen worden gespeeld.
Klik hier voor het lijstje

Geef commentaar op Crested Sunmare
Zoek decks met Crested Sunmare
Crested Sunmare toevoegen aan je watchlist:
Versie uit Hour of Devastation / Alle versies