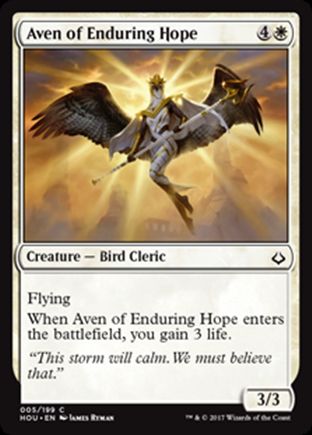 Oracle tekst

Creature - Bird Cleric 3 / 3
Flying
When Aven of Enduring Hope enters the battlefield, you gain 3 life.

Rating na 0 stemmen

Er is nog niet op deze kaart gestemd.

Tournooi info

Legal in: Standard, Modern, Block, Legacy, Vintage, Commander

NederMagic denkt mee

We hebben alle decks op de site voor je doorzocht en gekeken welke 20 kaarten het meest met Aven of Enduring Hope samen worden gespeeld.
Klik hier voor het lijstje

Geef commentaar op Aven of Enduring Hope
Zoek decks met Aven of Enduring Hope
Aven of Enduring Hope toevoegen aan je watchlist:
Versie uit Hour of Devastation / Alle versies