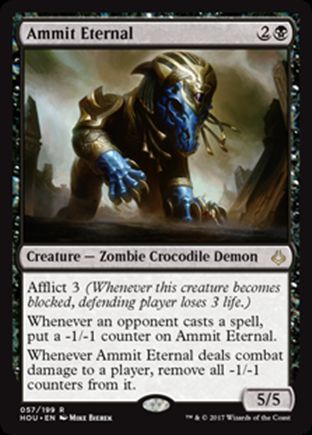 Oracle tekst

Creature - Zombie Crocodile Demon 5 / 5
Afflict 3 (Whenever this creature becomes blocked, defending player loses 3 life.)
Whenever an opponent casts a spell, put a -1/-1 counter on Ammit Eternal.
Whenever Ammit Eternal deals combat damage to a player, remove all -1/-1 counters from it.

Rating na 0 stemmen

Er is nog niet op deze kaart gestemd.

Tournooi info

Legal in: Modern, Legacy, Vintage, Commander

Officiele rulings

7/14/2017
Ammit Eternalís middle ability will resolve before the spell that caused it to trigger. The ability will resolve even if that spell is countered.

7/14/2017
If multiple creatures block a creature with afflict, afflict triggers only once.

7/14/2017
Afflict causes the defending player to lose life; itís not damage or combat damage.

7/14/2017
If a creature is attacking a planeswalker, that planeswalkerís controller is the defending player.

7/14/2017
Afflict resolves before combat damage is dealt. If this loss of life brings a player to 0 life or less, that player loses the game immediately. A blocking creature with lifelink wonít deal combat damage in time to save that player.



NederMagic denkt mee

We hebben alle decks op de site voor je doorzocht en gekeken welke 20 kaarten het meest met Ammit Eternal samen worden gespeeld.
Klik hier voor het lijstje

Geef commentaar op Ammit Eternal
Zoek decks met Ammit Eternal
Ammit Eternal toevoegen aan je watchlist:
Versie uit Hour of Devastation / Alle versies