Devoted Crop-Mate informatie
Serie: Amonkhet (AKH)
Rarity: Uncommon
Geef commentaar op Devoted Crop-Mate
Devoted Crop-Mate komt voor in
Serie
Normaal
Foil
Amonkhet

8

0,20

1

0,50
Wie ruilt deze kaart

[]
Nickname
#
Foil
Chiel Hammers (7)
0
1
Uchazu (12)
2
0
dvzuidam
2
0
Stronghold (63)
0
1
Amras (19)
1
0
Piet Kempenaar (10)
1
0
Nessix (2)
6
0
Chris072 (62)
2
0
Patrick (101)
8
0
Wietse (5)
1
0
* Dit is het aanbod van Devoted Crop-Mate uit Amonkhet. Als een kaart in meerdere series zit kun je die apart aanklikken hierboven. Klik op de getallen om direct naar iemands collectie te gaan. De leden die het meest recent zijn ingelogd staan bovenaan. Leden die meer dan 14 dagen niet zijn ingelogd worden niet vermeld.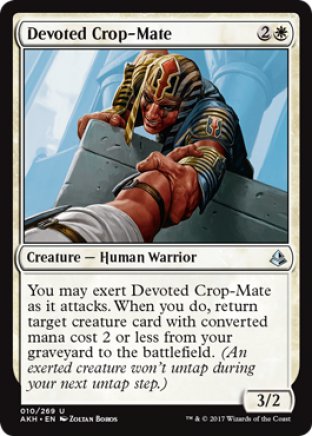 Oracle tekst

Creature - Human Warrior 3 / 2
You may exert Devoted Crop-Mate as it attacks. When you do, return target creature card with converted mana cost 2 or less from your graveyard to the battlefield. (An exerted creature won't untap during your next untap step.)

Rating na 1 stemmen












Tournooi info

Legal in: Standard, Modern, Block, Legacy, Vintage, Commander

Officiele rulings

4/18/2017
The converted mana cost of a card in your graveyard is determined solely by the mana symbols printed in its upper right corner. The converted mana cost is the total amount of mana in that cost, regardless of color. For example, a card with mana cost 1UU has converted mana cost 3.

4/18/2017
If the mana cost of a card in your graveyard includes X, X is considered to be 0.

4/18/2017
All attackers are chosen at once. You canít attack with Devoted Crop-Mate, return a creature card to the battlefield, and then attack with that creature.

4/18/2017
If the creature returned to the battlefield has any abilities that trigger when creatures attack or when you exert creatures, those abilities wonít trigger.

4/18/2017
You canít exert a creature unless an effect allows you to do so. Similar effects that ďtap and freezeĒ a creature (such as that of Decision Paralysis) donít exert that creature.

4/18/2017
If an exerted creature is already untapped during your next untap step (most likely because it had vigilance or an effect untapped it), exertís effect preventing it from untapping expires without having done anything.

4/18/2017
If you gain control of another playerís creature until end of turn and exert it, it will untap during that playerís untap step.

4/18/2017
If a creature has a targeted triggered ability that triggers when you exert it, you can exert it even if there isnít a legal target for that triggered ability.

4/18/2017
All cards in the Amonkhet set that let you exert a creature let you do so as you declare it as an attacking creature, as do some of the cards in the Hour of Devastation set. You canít do so later in combat, and creatures put onto the battlefield attacking canít be exerted. Any abilities that trigger on exerting an attacking creature will resolve before blockers are declared.



NederMagic denkt mee

We hebben alle decks op de site voor je doorzocht en gekeken welke 20 kaarten het meest met Devoted Crop-Mate samen worden gespeeld.
Klik hier voor het lijstje

Geef commentaar op Devoted Crop-Mate
Zoek decks met Devoted Crop-Mate
Devoted Crop-Mate toevoegen aan je watchlist:
Versie uit Amonkhet / Alle versies