Nissa, Steward of Elements informatie
Serie: Amonkhet (AKH)
Rarity: Mythic
Geef commentaar op Nissa, Steward of Elements
Nissa, Steward of Elements komt voor in
Serie
Normaal
Foil
Amonkhet

2

7,50

-

14,95
Wie ruilt deze kaart

[]
Nickname
#
Foil
Dorus (58)
1
0
Bas Maessen (225)
1
0
Erick
1
0
Jacinto (47)
1
0
Remco (18)
1
0
Luke
1
0
Torec (85)
1
0
Ferdi (72)
1
0
Jeroen van Berk (7)
1
0
Sjoerd (84)
1
0
Luuk
1
0
TvMoorsel
1
0
* Dit is het aanbod van Nissa, Steward of Elements uit Amonkhet. Als een kaart in meerdere series zit kun je die apart aanklikken hierboven. Klik op de getallen om direct naar iemands collectie te gaan. De leden die het meest recent zijn ingelogd staan bovenaan. Leden die meer dan 14 dagen niet zijn ingelogd worden niet vermeld.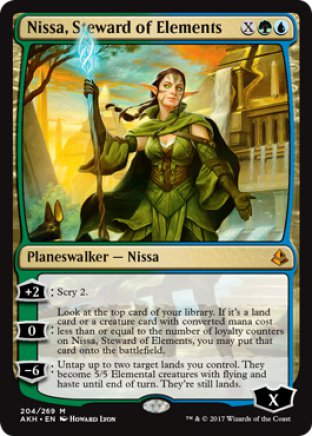 Oracle tekst

Planeswalker - Nissa
+2: Scry 2.
0: Look at the top card of your library. If it's a land card or a creature card with converted mana cost less than or equal to the number of loyalty counters on Nissa, Steward of Elements, you may put that card onto the battlefield.
-6: Untap up to two target lands you control. They become 5/5 Elemental creatures with flying and haste until end of turn. They're still lands.

Rating na 0 stemmen

Er is nog niet op deze kaart gestemd.

Tournooi info

Legal in: Standard, Modern, Block, Legacy, Vintage, Commander

Officiele rulings

4/18/2017
If X is 0, Nissa enters the battlefield with no loyalty and is put into her ownerís graveyard before you can activate her abilities.

4/18/2017
While resolving Nissaís second ability, if you canít or donít put the card onto the battlefield, it remains on top of your library.

4/18/2017
Once Nissaís second ability begins to resolve, no player may take actions until itís done. Notably, players canít try to change Nissaís loyalty once you look at the card or choose to put it onto the battlefield.

4/18/2017
If Nissa leaves the battlefield while her second ability is on the stack, use her last known loyalty to determine whether you may put the top card of your library onto the battlefield. If Nissa left the battlefield because she took enough damage to reduce her loyalty to 0, then her last known loyalty is 0.

4/18/2017
Nissaís last ability sets the base power and toughness of the lands to 5/5. Any +1/+1 or -1/-1 counters that were on those lands will apply to those values.



NederMagic denkt mee

We hebben alle decks op de site voor je doorzocht en gekeken welke 20 kaarten het meest met Nissa, Steward of Elements samen worden gespeeld.
Klik hier voor het lijstje

Geef commentaar op Nissa, Steward of Elements
Zoek decks met Nissa, Steward of Elements
Nissa, Steward of Elements toevoegen aan je watchlist:
Versie uit Amonkhet / Alle versies