Anointed Procession informatie
Serie: Amonkhet (AKH)
Rarity: Rare
Geef commentaar op Anointed Procession
Anointed Procession komt voor in
Serie
Normaal
Foil
Amonkhet

-

6,95

-

14,95
Wie ruilt deze kaart

[]
Nickname
#
Foil
Roald (73)
1
0
wvttk (137)
0
1
andreas (62)
5
0
Bart (14)
1
0
TimFakkel Arnhem (258)
1
0
mausbaus (1)
1
0
Jarno Cosijn (Assendelft) (308)
1
0
Laurens (29)
1
0
Claesar
1
0
Kenny (3)
1
0
Patrick (101)
1
0
PR Patiwael (36)
1
0
Koen Fasen (1)
1
0
Wesley van Laar (10)
4
0
Remco (19)
1
0
FearDot (35)
1
0
Bas Maessen (231)
2
0
Max Raterink
1
0
Thomas (48)
1
0
* Dit is het aanbod van Anointed Procession uit Amonkhet. Als een kaart in meerdere series zit kun je die apart aanklikken hierboven. Klik op de getallen om direct naar iemands collectie te gaan. De leden die het meest recent zijn ingelogd staan bovenaan. Leden die meer dan 14 dagen niet zijn ingelogd worden niet vermeld.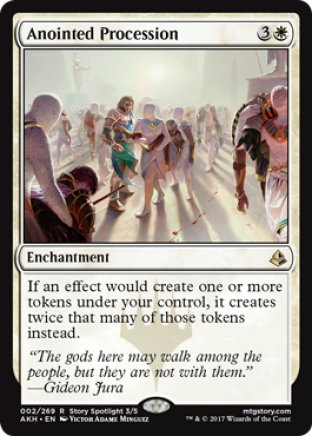 Oracle tekst

Enchantment
If an effect would create one or more tokens under your control, it creates twice that many of those tokens instead.

Rating na 0 stemmen

Er is nog niet op deze kaart gestemd.

Tournooi info

Legal in: Standard, Modern, Legacy, Vintage, Commander

Officiele rulings

4/18/2017
All of the tokens enter the battlefield simultaneously. They'll be created with the same name, color, type and subtype, abilities, power, toughness, and so on.

4/18/2017
If the token you create has any "as [this permanent] enters the battlefield" or "[this permanent] enters the battlefield with" abilities, first determine how many tokens are being created, then apply those abilities individually for each one. For example, if a token with "You may have [this permanent] enter the battlefield as a copy of any creature on the battlefield" would be created (such as an embalmed Vizier of Many Faces), the resulting two tokens can each copy a different creature.

4/18/2017
If an effect creates more than one kind of token, it'll create twice as many of each kind. For example, if you cast Bestial Menace while controlling Anointed Procession, you'll create two Snake tokens, two Wolf tokens, and two Elephant tokens.

4/18/2017
If you control two Anointed Processions, then the number of tokens created is four times the original number. If you control three, then the number of tokens created is eight times the original number, and so on.

4/18/2017
If the effect creating the tokens instructs you to do something with those tokens at a later time, like exiling them at the end of combat, you'll do that for all the tokens.

1/19/2018
There are many important moments in the story, but the most crucial-called "story spotlights"-are shown on cards. These cards have the Planeswalker symbol in their text box; this symbol has no effect on gameplay. You can read more about these events in the official Magic fiction at http://www.mtgstory.com.



NederMagic denkt mee

We hebben alle decks op de site voor je doorzocht en gekeken welke 20 kaarten het meest met Anointed Procession samen worden gespeeld.
Klik hier voor het lijstje

Geef commentaar op Anointed Procession
Zoek decks met Anointed Procession
Anointed Procession toevoegen aan je watchlist:
Versie uit Amonkhet / Alle versies