Blessed Alliance informatie
Serie: Eldritch Moon (EMN)
Rarity: Uncommon
Geef commentaar op Blessed Alliance
Blessed Alliance komt voor in
Serie
Normaal
Foil
Eldritch Moon

-

1,50

1

9,95
Wie ruilt deze kaart

[]
Nickname
#
Foil
Henk (11)
3
0
Martin (97)
3
0
Dorus (58)
2
0
MarijnKijff (2)
1
0
Djilan (364)
2
0
dvzuidam
1
0
Ferdi (72)
2
0
Piet Kempenaar (10)
1
0
Johan (62)
1
0
Amras (19)
1
0
Sander Filon (Bussum) (122)
3
0
Bart (14)
2
0
Tim,The Holy day Collector (15)
1
0
Ingmar (28)
4
0
Theo (Antwerpen) (2)
4
0
* Dit is het aanbod van Blessed Alliance uit Eldritch Moon. Als een kaart in meerdere series zit kun je die apart aanklikken hierboven. Klik op de getallen om direct naar iemands collectie te gaan. De leden die het meest recent zijn ingelogd staan bovenaan. Leden die meer dan 14 dagen niet zijn ingelogd worden niet vermeld.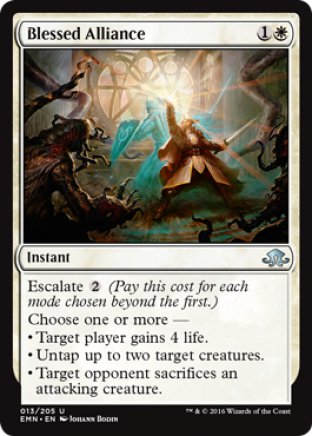 Oracle tekst

Instant
Escalate 2 (Pay this cost for each mode chosen beyond the first.)
Choose one or more -
- Target player gains 4 life.
- Untap up to two target creatures.
- Target opponent sacrifices an attacking creature.

Rating na 1 stemmen












Tournooi info

Legal in: Standard, Modern, Block, Legacy, Vintage, Commander

Officiele rulings

7/13/2016
The targeted opponent chooses which of his or her attacking creatures to sacrifice, not you.

7/13/2016
Untapping an attacking creature doesnít cause it to be removed from combat.

7/13/2016
You choose all of your modes at once. You canít wait to perform one modeís actions and then decide to choose more modes.

7/13/2016
You canít choose any one mode multiple times.

7/13/2016
If two of the chosen modes of an escalate spell target a creature, you may choose the same creature for each modeís target, or choose different creatures. The same is true if the chosen modes target a player (or opponent).

7/13/2016
If one target of an escalate spell becomes illegal, the other targets will still be affected. If all of the targets become illegal, the spell will be countered.

7/13/2016
Effects that reduce the cost of spells reduce the total cost, including any escalate costs added.

7/13/2016
If an effect allows you to cast a spell that has escalate without paying its mana cost, you pay escalate costs for that spell if you choose more than one mode.

7/13/2016
Additional costs donít affect a spellís converted mana cost.



NederMagic denkt mee

We hebben alle decks op de site voor je doorzocht en gekeken welke 20 kaarten het meest met Blessed Alliance samen worden gespeeld.
Klik hier voor het lijstje

Geef commentaar op Blessed Alliance
Zoek decks met Blessed Alliance
Blessed Alliance toevoegen aan je watchlist:
Versie uit Eldritch Moon / Alle versies