Broken Concentration informatie
Serie: Shadows over Innistrad (SOI)
Rarity: Uncommon
Geef commentaar op Broken Concentration
Broken Concentration komt voor in
Serie
Normaal
Foil
Shadows over Innistrad

8

0,20

1

1,00
Wie ruilt deze kaart

[]
Nickname
#
Foil
Chris072 (62)
4
0
Amras (19)
1
0
Marcel (53)
1
0
Benjamin (18)
0
1
Grimmbreak (2)
1
0
Torec (85)
1
0
Piet Kempenaar (10)
2
0
morgano
1
0
Daanson (60)
3
0
* Dit is het aanbod van Broken Concentration uit Shadows over Innistrad. Als een kaart in meerdere series zit kun je die apart aanklikken hierboven. Klik op de getallen om direct naar iemands collectie te gaan. De leden die het meest recent zijn ingelogd staan bovenaan. Leden die meer dan 14 dagen niet zijn ingelogd worden niet vermeld.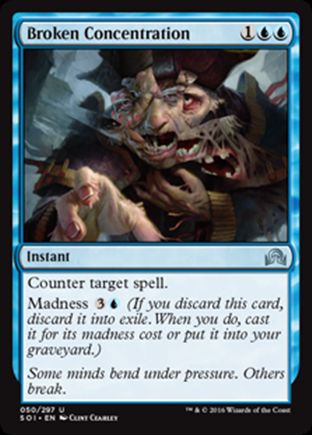 Oracle tekst

Instant
Counter target spell.
Madness 3U (If you discard this card, discard it into exile. When you do, cast it for its madness cost or put it into your graveyard.)

Rating na 0 stemmen

Er is nog niet op deze kaart gestemd.

Tournooi info

Legal in: Standard, Modern, Block, Legacy, Vintage, Commander

Officiele rulings

4/8/2016
Cards are discarded in a Magic game only from a playerís hand. Effects that put cards from a playerís library into that playerís graveyard do not cause those cards to be discarded.

4/8/2016
A spell cast for its madness cost is put onto the stack like any other spell. It can be countered, copied, and so on. As it resolves, itís put onto the battlefield if itís a permanent card or into its ownerís graveyard if itís an instant or sorcery card.

4/8/2016
Casting a spell for its madness cost doesnít change its mana cost or its converted mana cost. You just pay the madness cost instead.

4/8/2016
Effects that cause you to pay more or less for a spell will cause you to pay that much more or less for its madness cost, too.

4/8/2016
Madness works independently of why youíre discarding the card. You could discard it to pay a cost, because a spell or ability tells you to, or even because you have too many cards in your hand at the end of your turn. You canít discard a card with madness just because you want to, though.

4/8/2016
When you cast a card with madness, it was still discarded. If it was discarded to pay a cost, that cost is still paid. Abilities that trigger when a card is discarded will still trigger.

4/8/2016
If you choose not to cast a card with madness when the madness triggered ability resolves, itís put into your graveyard. You donít get another chance to cast it later.

4/8/2016
If you discard a card with madness to pay the cost of a spell or activated ability, that cardís madness trigger (and the spell that card becomes, if you choose to cast it) will resolve before the spell or ability the discard paid for.

4/8/2016
If you discard a card with madness while resolving a spell or ability, it moves immediately to exile. Continue resolving that spell or ability-the card is not in your graveyard at this time. Its madness trigger will be placed onto the stack once that spell or ability has completely resolved.



NederMagic denkt mee

We hebben alle decks op de site voor je doorzocht en gekeken welke 20 kaarten het meest met Broken Concentration samen worden gespeeld.
Klik hier voor het lijstje

Geef commentaar op Broken Concentration
Zoek decks met Broken Concentration
Broken Concentration toevoegen aan je watchlist:
Versie uit Shadows over Innistrad / Alle versies