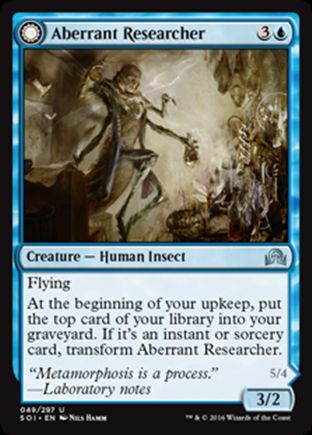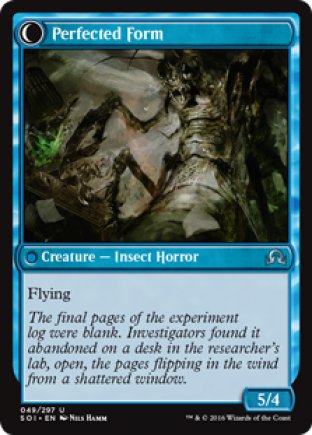 Oracle tekst

Creature - Human Insect 3 / 2
Flying
At the beginning of your upkeep, put the top card of your library into your graveyard. If it's an instant or sorcery card, transform Aberrant Researcher.

Rating na 0 stemmen

Er is nog niet op deze kaart gestemd.

Tournooi info

Legal in: Modern, Legacy, Vintage, Commander

Officiele rulings

4/8/2016
No player may take any action between the two steps of Aberrant Researcherís triggered ability. If the card put into your graveyard is an instant or sorcery card, Aberrant Researcher will have transformed before a player can take any action.

4/8/2016
If a replacement effect causes the top card of your library to go to a zone other than your graveyard, Aberrant Researcher will still transform if that card was an instant or sorcery card.

7/13/2016
For more information on double-faced cards, see the Shadows over Innistrad mechanics article (http://magic.wizards.com/en/articles/archive/feature/shadows-over-innistrad-mechanics).



NederMagic denkt mee

We hebben alle decks op de site voor je doorzocht en gekeken welke 20 kaarten het meest met Aberrant Researcher samen worden gespeeld.
Klik hier voor het lijstje

Geef commentaar op Aberrant Researcher
Zoek decks met Aberrant Researcher
Aberrant Researcher toevoegen aan je watchlist:
Versie uit Shadows over Innistrad / Alle versies