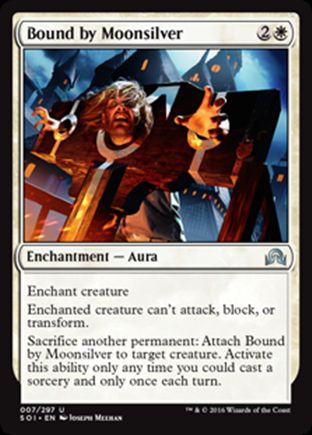 Oracle tekst

Enchantment - Aura
Enchant creature
Enchanted creature can't attack, block, or transform.
Sacrifice another permanent: Attach Bound by Moonsilver to target creature. Activate this ability only any time you could cast a sorcery and only once each turn.

Rating na 0 stemmen

Er is nog niet op deze kaart gestemd.

Tournooi info

Legal in: Standard, Modern, Block, Legacy, Vintage, Commander

Officiele rulings

4/8/2016
Activated and triggered abilities of the enchanted creature that would cause it to transform can still be activated or triggered. If those abilities have any other effects, those effects will happen.

4/8/2016
You control Bound by Moonsilver even while it enchants an opponent's creature. Only you can activate its last ability.



NederMagic denkt mee

We hebben alle decks op de site voor je doorzocht en gekeken welke 20 kaarten het meest met Bound by Moonsilver samen worden gespeeld.
Klik hier voor het lijstje

Geef commentaar op Bound by Moonsilver
Zoek decks met Bound by Moonsilver
Bound by Moonsilver toevoegen aan je watchlist:
Versie uit Shadows over Innistrad / Alle versies