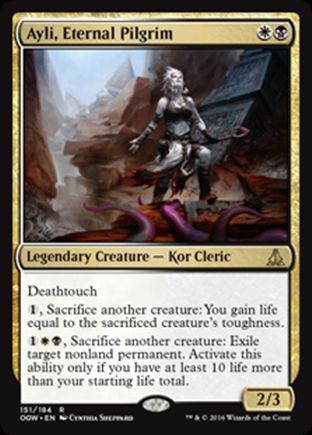 Oracle tekst

Legendary Creature - Kor Cleric 2 / 3
Deathtouch
1, Sacrifice another creature: You gain life equal to the sacrificed creature's toughness.
1WB, Sacrifice another creature: Exile target nonland permanent. Activate this ability only if you have at least 10 life more than your starting life total.

Rating na 0 stemmen

Er is nog niet op deze kaart gestemd.

Tournooi info

Legal in: Modern, Legacy, Vintage, Commander

Officiele rulings

1/22/2016
Once youíve announced either activated ability, itís too late for anyone to interrupt you by trying to remove the creature you sacrifice.

1/22/2016
Once youíve legally activated the last ability, it doesnít matter what happens to your life total.

1/22/2016
Your starting life total is the life total you began the game with. For most two-player formats, this is 20. For Two-Headed Giant, itís the life total your team started with, usually 30. In Commander games, your starting life total is 40.



NederMagic denkt mee

We hebben alle decks op de site voor je doorzocht en gekeken welke 20 kaarten het meest met Ayli, Eternal Pilgrim samen worden gespeeld.
Klik hier voor het lijstje

Geef commentaar op Ayli, Eternal Pilgrim
Zoek decks met Ayli, Eternal Pilgrim
Ayli, Eternal Pilgrim toevoegen aan je watchlist:
Versie uit Oath of the Gatewatch / Alle versies