Akoum Firebird informatie
Serie: Battle for Zendikar (BFZ)
Rarity: Mythic
Geef commentaar op Akoum Firebird
Akoum Firebird komt voor in
Serie
Normaal
Foil
Battle for Zendikar

8

0,50

1

1,95
Wie ruilt deze kaart

[]
Nickname
#
Foil
Illus. Thijs Jager (44)
3
0
Tim "die lange blonde" (23)
1
0
Erwin Visscher (36)
3
0
Tim,The Holy day Collector (15)
1
0
Xander (27)
2
0
elias alkmaar
2
0
patje
1
0
Maarten W (47)
1
0
Kenta (9)
1
0
wvttk (135)
1
0
Remco (15)
2
0
Dimitri
1
0
yao (8)
1
0
Martin (93)
4
0
JB1 (2)
2
0
Loktin (47)
1
0
ThomasvdK
1
0
Tom Janssen
1
0
namorthac (52)
1
0
Claesar
2
0
Casper (24)
1
0
TvMoorsel
0
1
Peter (Hasselt NL) (36)
1
0
Sjoerd (80)
1
0
Kenshin (68)
1
0
Floris22
1
0
Sephiroth (150)
1
0
Drawando (1)
2
0
Salamander (1)
1
0
* Dit is het aanbod van Akoum Firebird uit Battle for Zendikar. Als een kaart in meerdere series zit kun je die apart aanklikken hierboven. Klik op de getallen om direct naar iemands collectie te gaan. De leden die het meest recent zijn ingelogd staan bovenaan. Leden die meer dan 14 dagen niet zijn ingelogd worden niet vermeld.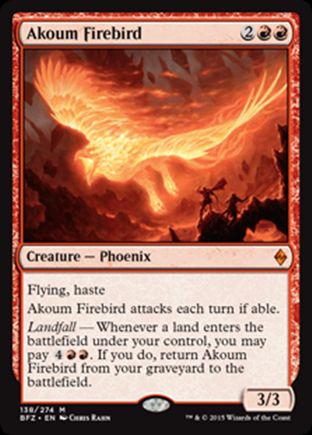 Oracle tekst

Creature - Phoenix 3 / 3
Flying, haste
Akoum Firebird attacks each turn if able.
Landfall - Whenever a land enters the battlefield under your control, you may pay 4RR. If you do, return Akoum Firebird from your graveyard to the battlefield.

Rating na 0 stemmen

Er is nog niet op deze kaart gestemd.

Tournooi info

Legal in: Standard, Modern, Block, Legacy, Vintage, Commander

Officiele rulings

8/25/2015
If, during its controllerís declare attackers step, Akoum Firebird is tapped or is affected by a spell or ability that says it canít attack, then it doesnít attack. If thereís a cost associated with having it attack, its controller isnít forced to pay that cost. If he or she doesnít, Akoum Firebird doesnít have to attack.

8/25/2015
The landfall ability triggers only if Akoum Firebird is in your graveyard at the moment the land enters the battlefield.

8/25/2015
Players can respond to the triggered ability, but once it starts resolving and you decide whether to pay 4RR, itís too late for anyone to respond.

8/25/2015
A landfall ability triggers whenever a land enters the battlefield under your control for any reason. It triggers whenever you play a land, as well as whenever a spell or ability puts a land onto the battlefield under your control.

8/25/2015
When a land enters the battlefield under your control, each landfall ability of the permanents you control will trigger. You can put them on the stack in any order. The last ability you put on the stack will be the first one to resolve.

8/25/2015
If the ability has an additional or replacement effect that depends on the land having a certain basic land type, the ability will check that landís type as the ability resolves. If, at that time, the land that entered the battlefield is no longer on the battlefield, use its types when it left the battlefield to determine what happens.



NederMagic denkt mee

We hebben alle decks op de site voor je doorzocht en gekeken welke 20 kaarten het meest met Akoum Firebird samen worden gespeeld.
Klik hier voor het lijstje

Geef commentaar op Akoum Firebird
Zoek decks met Akoum Firebird
Akoum Firebird toevoegen aan je watchlist:
Versie uit Battle for Zendikar / Alle versies