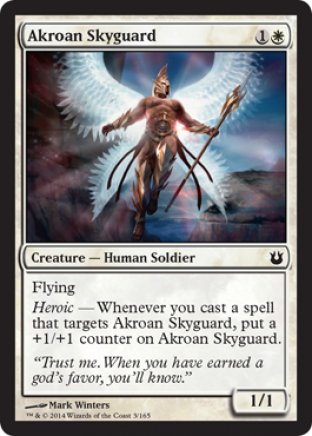 Oracle tekst

Creature - Human Soldier 1 / 1
Flying
Heroic - Whenever you cast a spell that targets Akroan Skyguard, put a +1/+1 counter on Akroan Skyguard.

Rating na 2 stemmen












Tournooi info

Legal in: Modern, Legacy, Vintage, Commander

Officiele rulings

9/15/2013
Heroic abilities will resolve before the spell that caused them to trigger.

9/15/2013
Heroic abilities will trigger only once per spell, even if that spell targets the creature with the heroic ability multiple times.

9/15/2013
Heroic abilities wonít trigger when a copy of a spell is created on the stack or when a spellís targets are changed to include a creature with a heroic ability.



NederMagic denkt mee

We hebben alle decks op de site voor je doorzocht en gekeken welke 20 kaarten het meest met Akroan Skyguard samen worden gespeeld.
Klik hier voor het lijstje

Geef commentaar op Akroan Skyguard
Zoek decks met Akroan Skyguard
Akroan Skyguard toevoegen aan je watchlist:
Versie uit Born of the Gods / Alle versies