Mindslaver informatie
Serie: Scars of Mirrodin (SOM)
Rarity: Mythic
Geef commentaar op Mindslaver
Mindslaver komt voor in
Serie
Normaal
Foil
Mirrodin

4

3,95

1

29,95
Scars of Mirrodin

2

3,95

-

11,95
Wie ruilt deze kaart

[]
Nickname
#
Foil
Winant (32)
1
0
TeiZ (Castricum) (14)
0
1
Kyun (0)
1
0
elia (6)
1
0
TimFakkel Arnhem (262)
1
0
Roland (82)
1
0
Arjen Hoekstra (226)
1
0
Patrick (101)
1
0
Rattlehead (29)
1
0
Wouter Vermeer (69)
1
0
Anne-jan van aperlo (30)
1
0
Coen janssens (24)
1
0
* Dit is het aanbod van Mindslaver uit Scars of Mirrodin. Als een kaart in meerdere series zit kun je die apart aanklikken hierboven. Klik op de getallen om direct naar iemands collectie te gaan. De leden die het meest recent zijn ingelogd staan bovenaan. Leden die meer dan 14 dagen niet zijn ingelogd worden niet vermeld.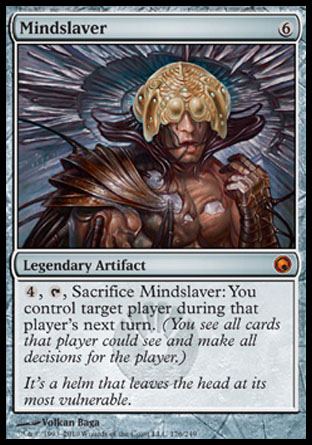 Oracle tekst

Legendary Artifact
4, T, Sacrifice Mindslaver: You control target player during that player's next turn. (You see all cards that player could see and make all decisions for the player.)

Rating na 0 stemmen

Er is nog niet op deze kaart gestemd.

Tournooi info

Legal in: Modern, Legacy, Vintage, Commander

Officiele rulings

10/4/2004
Only lets you make decisions that the player would actually make. If another effect allows another player to make decisions that would normally be made by that player, such as having another player decide how combat damage is dealt, then the other effect takes precedence.

12/1/2004
You control them for the entire turn, from the untap step to the cleanup step.

12/1/2004
You could gain control of yourself using Mindslaver, but gaining control of yourself doesnít really do anything.

12/1/2004
You donít control any of the other playerís permanents, spells, or abilities.

12/1/2004
You canít make the other player concede. A player can choose to concede at any time.

12/1/2004
You get to make every decision the other player would have made during that turn. You canít make any illegal decisions or illegal choices - you canít do anything that player couldnít do. You can spend mana in the playerís mana pool only on that playerís spells and abilities. The mana in your mana pool can be spent only on your spells and abilities.

12/1/2004
You choose which spells the other player casts, and make all decisions as those spells are cast and when they resolve. For example, you choose the target for that playerís Shock, and what card that player gets with Diabolic Tutor.

12/1/2004
You choose which activated abilities the other player activates, and make all decisions as those abilities are activated and when they resolve. For example, you can have your opponent sacrifice their creatures to their Nantuko Husk or have your opponentís Timberwatch Elf give your blocking creature +X/+X.

12/1/2004
You make all decisions for the other playerís triggered abilities, including what they target and any decisions made when they resolve.

12/1/2004
You choose which creatures attack and how those attacking creatures assign their combat damage.

12/1/2004
You also make choices for your own permanents, spells, and abilities as usual.

12/1/2004
You canít make any decisions that arenít called for or allowed by the game rules, or by any cards, permanents, spells, abilities, and so on.

12/1/2004
If you make another player cast Shahrazad, you donít control that player in the subgame, but you continue to control them once the subgame is completed.

7/13/2016
While controlling another player, you can see all cards in the game that player can see. This includes cards in that playerís hand, face-down cards that player controls, and any cards in that playerís library the player may look at.

7/13/2016
Controlling a player doesnít allow you to look at that playerís sideboard. If an effect instructs that player to choose a card from outside the game, you canít have that player choose any card.



NederMagic denkt mee

We hebben alle decks op de site voor je doorzocht en gekeken welke 20 kaarten het meest met Mindslaver samen worden gespeeld.
Klik hier voor het lijstje

Geef commentaar op Mindslaver
Zoek decks met Mindslaver
Mindslaver toevoegen aan je watchlist:
Versie uit Scars of Mirrodin / Alle versies