Grappling Hook informatie
Serie: Zendikar (ZEN)
Rarity: Rare
Geef commentaar op Grappling Hook
Grappling Hook komt voor in
Serie
Normaal
Foil
Zendikar

3

0,40

3

1,00
Commander 2017

1

0,40
Wie ruilt deze kaart

[]
Nickname
#
Foil
Kobbe (40)
1
0
Kenta (9)
2
0
Wouter Vermeer (69)
1
0
Marnix de Jong (49)
2
0
Roy (174)
2
0
Mat (50)
1
0
Maarten (10)
1
0
TimFakkel Arnhem (258)
1
0
G-men (94)
1
0
Wouter (136)
6
0
Bjorn Van der Zanden (53)
2
0
Gerben D (4)
1
0
Patrick Schouten (6)
1
0
stijn BE (42)
1
0
Invictus4774 (55)
1
0
Kaa (24)
1
0
The Claws ->Wolverine<- (36)
1
0
Wouter Pegtel (69)
1
0
Roland (82)
1
0
Santa (Hoorn NH) (271)
1
0
Superne5k (149)
2
0
Sjoey (40)
1
0
R. Woutersen (Utrecht/Apeldoorn) (209)
4
0
Zee (4)
1
0
wouter (19)
2
0
Ruud (Haarlem) (60)
1
0
* Dit is het aanbod van Grappling Hook uit Zendikar. Als een kaart in meerdere series zit kun je die apart aanklikken hierboven. Klik op de getallen om direct naar iemands collectie te gaan. De leden die het meest recent zijn ingelogd staan bovenaan. Leden die meer dan 14 dagen niet zijn ingelogd worden niet vermeld.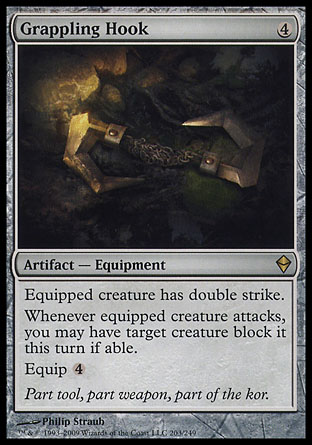 Oracle tekst

Artifact - Equipment
Equipped creature has double strike.
Whenever equipped creature attacks, you may have target creature block it this turn if able.
Equip 4

Rating na 1 stemmen












Tournooi info

Legal in: Modern, Legacy, Vintage, Commander

Officiele rulings

10/1/2009
If you control the triggered ability, you decide whether to have the targeted creature block the attacking creature at the time the ability resolves, not at the time blockers are declared.

10/1/2009
If you choose to have the targeted creature block, the creature it must block is the one that was equipped by Grappling Hook at the time the ability triggered. It doesnít matter if Grappling Hook leaves the battlefield or somehow becomes attached to another creature.

10/1/2009
If you choose to have the targeted creature block the creature that was equipped with Grappling Hook, but it isnít able to do so as blockers are declared (for example, because the attacking creature has flying and the targeted creature doesnít), the requirement to block does nothing. The targeted creature is free to block whichever creature its controller chooses, or block no creatures at all.

10/1/2009
Tapped creatures, creatures that canít block as the result of an effect, creatures with unpaid costs to block (such as those from War Cadence), and creatures that arenít controlled by the defending player are exempt from effects that would require them to block. Such creatures can be targeted by the ability, but the requirement to block does nothing.



NederMagic denkt mee

We hebben alle decks op de site voor je doorzocht en gekeken welke 20 kaarten het meest met Grappling Hook samen worden gespeeld.
Klik hier voor het lijstje

Geef commentaar op Grappling Hook
Zoek decks met Grappling Hook
Grappling Hook toevoegen aan je watchlist:
Versie uit Zendikar / Alle versies