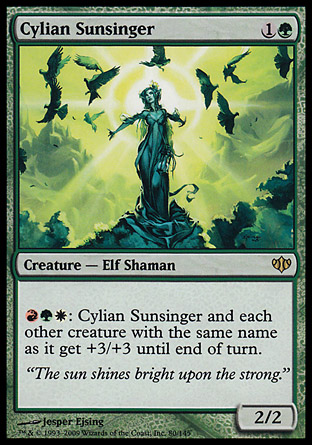 Oracle tekst

Creature - Elf Shaman 2 / 2
RGW: Cylian Sunsinger and each other creature with the same name as it get +3/+3 until end of turn.

Rating na 1 stemmen












Tournooi info

Legal in: Modern, Legacy, Vintage, Commander

Officiele rulings

2/1/2009
When the ability resolves, it gives the +3/+3 bonus to the source of the ability and each other creature that shares a name with that source, even if that source isnít actually named Cylian Sunsinger. This could happen if Skill Borrower gains this ability, or if Cylian Sunsingerís name is changed (due to Mirrorweave, perhaps) before the ability resolves.

2/1/2009
If Cylian Sunsinger has left the battlefield by the time its ability resolves, its ability will affect each creature whose name is the same as the name Cylian Sunsinger had as it last existed on the battlefield.



NederMagic denkt mee

We hebben alle decks op de site voor je doorzocht en gekeken welke 20 kaarten het meest met Cylian Sunsinger samen worden gespeeld.
Klik hier voor het lijstje

Geef commentaar op Cylian Sunsinger
Zoek decks met Cylian Sunsinger
Cylian Sunsinger toevoegen aan je watchlist:
Versie uit Conflux / Alle versies