Clarion Ultimatum informatie
Serie: Shards of Alara (ALA)
Rarity: Rare
Geef commentaar op Clarion Ultimatum
Clarion Ultimatum komt voor in
Serie
Normaal
Foil
Shards of Alara

6

0,35

-

1,00
Wie ruilt deze kaart

[]
Nickname
#
Foil
Bart Jonkers (109)
1
0
Paulus
1
0
Kyun (7)
1
0
Stronghold (65)
1
0
Dorus (60)
1
0
joshua (0)
1
0
midnight (31)
1
0
Roy (178)
1
0
stijn BE (42)
1
0
Gerben D (4)
1
0
Shai (Utrecht) (191)
1
0
Wouter (136)
6
0
G-men (96)
1
0
erwin (30)
1
0
Justus (25)
1
0
kingdAve (17)
1
0
Felix
2
0
jaap (0)
1
0
* Dit is het aanbod van Clarion Ultimatum uit Shards of Alara. Als een kaart in meerdere series zit kun je die apart aanklikken hierboven. Klik op de getallen om direct naar iemands collectie te gaan. De leden die het meest recent zijn ingelogd staan bovenaan. Leden die meer dan 14 dagen niet zijn ingelogd worden niet vermeld.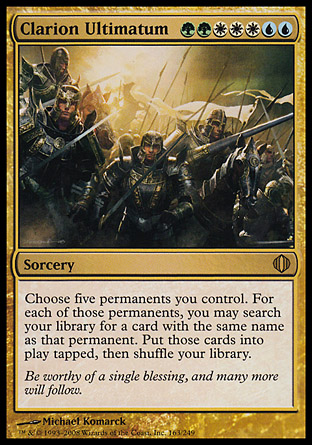 Oracle tekst

Sorcery
Choose five permanents you control. For each of those permanents, you may search your library for a card with the same name as that permanent. Put those cards onto the battlefield tapped, then shuffle your library.

Rating na 0 stemmen

Er is nog niet op deze kaart gestemd.

Tournooi info

Legal in: Modern, Legacy, Vintage, Commander

Officiele rulings

10/1/2008
This spell has no targets. You donít choose five permanents you control until Clarion Ultimatum resolves. If you control fewer than five permanents at that time, choose each permanent you do control.

10/1/2008
The five permanents you choose must all be different. However, some of them may have the same name as one another. For example, you may choose two Empyrial Archangels and three Plains. If you do, you search your library for up to two more Empyrial Archangels and up to three more Plains and put them onto the battlefield tapped.

10/1/2008
If you choose a permanent whose name has been changed by an effect (for example, a Clone thatís copying another creature), youíll search for a card with the new name, not one with the original name. Note that changing a landís subtype doesnít change its name.

10/1/2008
If you choose a permanent with no name, such as a face-down creature, no card in your library can be found with that name.

10/1/2008
You make just one search. (This could matter for cards like Aven Mindcensor, for example.)

10/1/2008
The cards all enter the battlefield at the same time. If one of the cards thatís entering the battlefield is an Aura, it must enter the battlefield attached to a permanent already on the battlefield. It canít enter the battlefield attached to another permanent entering the battlefield via Clarion Ultimatum. If an Aura canít enter the battlefield this way, it remains in your library.

10/1/2008
If you find a card that isnít a permanent card while searching (for example, you chose an Illusion token and find the split card Illusion/Reality), that card remains in your library.



NederMagic denkt mee

We hebben alle decks op de site voor je doorzocht en gekeken welke 20 kaarten het meest met Clarion Ultimatum samen worden gespeeld.
Klik hier voor het lijstje

Geef commentaar op Clarion Ultimatum
Zoek decks met Clarion Ultimatum
Clarion Ultimatum toevoegen aan je watchlist:
Versie uit Shards of Alara / Alle versies