Angelic Benediction informatie
Serie: Shards of Alara (ALA)
Rarity: Uncommon
Geef commentaar op Angelic Benediction
Angelic Benediction komt voor in
Serie
Normaal
Foil
Shards of Alara

3

0,20

1

0,50
Divine vs Demonic

8

0,15
M13

8

0,15

1

0,40
Wie ruilt deze kaart

[]
Nickname
#
Foil
Marcel (57)
1
0
Duncan (235)
1
0
* Dit is het aanbod van Angelic Benediction uit Shards of Alara. Als een kaart in meerdere series zit kun je die apart aanklikken hierboven. Klik op de getallen om direct naar iemands collectie te gaan. De leden die het meest recent zijn ingelogd staan bovenaan. Leden die meer dan 14 dagen niet zijn ingelogd worden niet vermeld.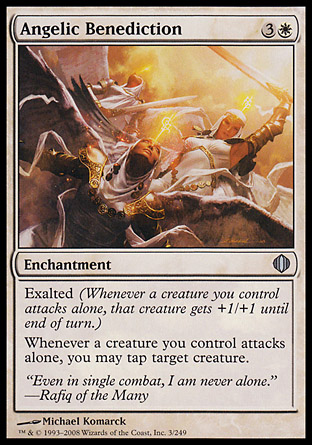 Oracle tekst

Enchantment
Exalted (Whenever a creature you control attacks alone, that creature gets +1/+1 until end of turn.)
Whenever a creature you control attacks alone, you may tap target creature.

Rating na 0 stemmen

Er is nog niet op deze kaart gestemd.

Tournooi info

Legal in: Modern, Legacy, Vintage, Commander

Officiele rulings

10/1/2008
If you declare exactly one creature as an attacker, each exalted ability on each permanent you control (including, perhaps, the attacking creature itself) will trigger. The bonuses are given to the attacking creature, not to the permanent with exalted. Ultimately, the attacking creature will wind up with +1/+1 for each of your exalted abilities.

10/1/2008
If you attack with multiple creatures, but then all but one are removed from combat, your exalted abilities won't trigger.

10/1/2008
Some effects put creatures onto the battlefield attacking. Since those creatures were never declared as attackers, they're ignored by exalted abilities. They won't cause exalted abilities to trigger. If any exalted abilities have already triggered (because exactly one creature was declared as an attacker), those abilities will resolve as normal even though there may now be multiple attackers.

10/1/2008
Exalted abilities will resolve before blockers are declared.

10/1/2008
Exalted bonuses last until end of turn. If an effect creates an additional combat phase during your turn, a creature that attacked alone during the first combat phase will still have its exalted bonuses in that new phase. If a creature attacks alone during the second combat phase, all your exalted abilities will trigger again.

10/1/2008
In a Two-Headed Giant game, a creature "attacks alone" if it's the only creature declared as an attacker by your entire team. If you control that attacking creature, your exalted abilities will trigger but your teammate's exalted abilities won't.

7/1/2012
The creature you target with the last ability will become tapped before blockers are declared.



NederMagic denkt mee

We hebben alle decks op de site voor je doorzocht en gekeken welke 20 kaarten het meest met Angelic Benediction samen worden gespeeld.
Klik hier voor het lijstje

Geef commentaar op Angelic Benediction
Zoek decks met Angelic Benediction
Angelic Benediction toevoegen aan je watchlist:
Versie uit Shards of Alara / Alle versies