Viridescent Wisps informatie
Serie: Shadowmoor (SHM)
Rarity: Common
Geef commentaar op Viridescent Wisps
Viridescent Wisps komt voor in
Serie
Normaal
Foil
Shadowmoor

8

0,15

2

0,40
Wie ruilt deze kaart

[]
Nickname
#
Foil
Wouter (136)
1
0
XiphiasX (10)
4
0
Linda la Keeper of Silence (31)
1
0
* Dit is het aanbod van Viridescent Wisps uit Shadowmoor. Als een kaart in meerdere series zit kun je die apart aanklikken hierboven. Klik op de getallen om direct naar iemands collectie te gaan. De leden die het meest recent zijn ingelogd staan bovenaan. Leden die meer dan 14 dagen niet zijn ingelogd worden niet vermeld.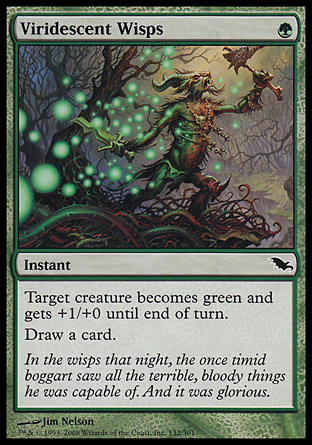 Oracle tekst

Instant
Target creature becomes green and gets +1/+0 until end of turn.
Draw a card.

Rating na 1 stemmen












Tournooi info

Legal in: Modern, Legacy, Vintage, Commander

Officiele rulings

5/1/2008
An effect that changes a permanent's colors overwrites all its old colors unless it specifically says "in addition to its other colors." For example, after Cerulean Wisps resolves, the affected creature will just be blue. It doesn't matter what colors it used to be (even if, for example, it used to be blue and black).

5/1/2008
Changing a permanent's color won't change its text. If you turn Wilt-Leaf Liege blue, it will still affect green creatures and white creatures.

5/1/2008
Colorless is not a color.



NederMagic denkt mee

We hebben alle decks op de site voor je doorzocht en gekeken welke 20 kaarten het meest met Viridescent Wisps samen worden gespeeld.
Klik hier voor het lijstje

Geef commentaar op Viridescent Wisps
Zoek decks met Viridescent Wisps
Viridescent Wisps toevoegen aan je watchlist:
Versie uit Shadowmoor / Alle versies