Slithermuse informatie
Serie: Morningtide (MOR)
Rarity: Rare
Geef commentaar op Slithermuse
Slithermuse komt voor in
Serie
Normaal
Foil
Morningtide

-

0,50

-

1,25
Wie ruilt deze kaart

[]
Nickname
#
Foil
Anne-jan van aperlo (30)
1
0
Roy (178)
2
0
TeiZ (Castricum) (14)
0
1
midnight (31)
1
0
Freaklin (44)
1
0
Bjorn (50)
1
0
Wouter Vermeer (69)
1
0
Robbie (102)
1
0
G-men (96)
2
0
R. Woutersen (Utrecht/Apeldoorn) (209)
2
0
* Dit is het aanbod van Slithermuse uit Morningtide. Als een kaart in meerdere series zit kun je die apart aanklikken hierboven. Klik op de getallen om direct naar iemands collectie te gaan. De leden die het meest recent zijn ingelogd staan bovenaan. Leden die meer dan 14 dagen niet zijn ingelogd worden niet vermeld.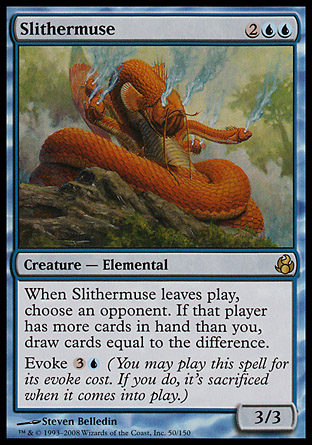 Oracle tekst

Creature - Elemental 3 / 3
When Slithermuse leaves the battlefield, choose an opponent. If that player has more cards in hand than you, draw cards equal to the difference.
Evoke 3U (You may cast this spell for its evoke cost. If you do, it's sacrificed when it enters the battlefield.)

Rating na 1 stemmen












Tournooi info

Legal in: Modern, Legacy, Vintage, Commander

Officiele rulings

4/1/2008
Evoke doesnít change the timing of when you can cast the creature that has it. If you could cast that creature spell only when you could cast a sorcery, the same is true for cast it with evoke.

4/1/2008
If a creature spell cast with evoke changes controllers before it enters the battlefield, it will still be sacrificed when it enters the battlefield. Similarly, if a creature cast with evoke changes controllers after it enters the battlefield but before its sacrifice ability resolves, it will still be sacrificed. In both cases, the controller of the creature at the time it left the battlefield will control its leaves-the-battlefield ability.

4/1/2008
When you cast a spell by paying its evoke cost, its mana cost doesnít change. You just pay the evoke cost instead.

4/1/2008
Effects that cause you to pay more or less to cast a spell will cause you to pay that much more or less while casting it for its evoke cost, too. Thatís because they affect the total cost of the spell, not its mana cost.

4/1/2008
Whether evokeís sacrifice ability triggers when the creature enters the battlefield depends on whether the spellís controller chose to pay the evoke cost, not whether they actually paid it (if it was reduced or otherwise altered by another ability, for example).

4/1/2008
If youíre casting a spell ďwithout paying its mana cost,Ē you canít use its evoke ability.

4/1/2008
You choose an opponent when the ability resolves. Once you determine how many more cards than you that player has, that number is locked in as the amount youíll draw.



NederMagic denkt mee

We hebben alle decks op de site voor je doorzocht en gekeken welke 20 kaarten het meest met Slithermuse samen worden gespeeld.
Klik hier voor het lijstje

Geef commentaar op Slithermuse
Zoek decks met Slithermuse
Slithermuse toevoegen aan je watchlist:
Versie uit Morningtide / Alle versies