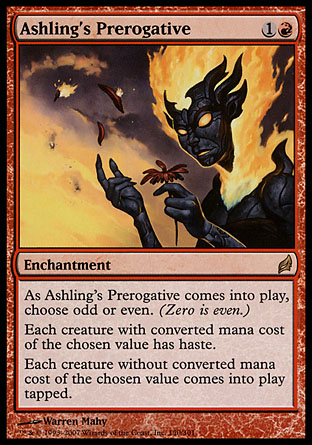 Oracle tekst

Enchantment
As Ashling's Prerogative enters the battlefield, choose odd or even. (Zero is even.)
Each creature with converted mana cost of the chosen value has haste.
Each creature without converted mana cost of the chosen value enters the battlefield tapped.

Rating na 1 stemmen












Tournooi info

Legal in: Modern, Legacy, Vintage, Commander

Officiele rulings

10/1/2007
The "chosen value" is either "odd" or "even." So either creatures with odd converted mana costs enter the battlefield tapped and creatures with even converted mana costs have haste, or vice versa.

10/1/2007
If a creature has X in its mana cost, that X is treated as 0 for the purposes of these effects. It doesn't matter what the value of X was while the creature was on the stack.



NederMagic denkt mee

We hebben alle decks op de site voor je doorzocht en gekeken welke 20 kaarten het meest met Ashling's Prerogative samen worden gespeeld.
Klik hier voor het lijstje

Geef commentaar op Ashling's Prerogative
Zoek decks met Ashling's Prerogative
Ashling's Prerogative toevoegen aan je watchlist:
Versie uit Lorwyn / Alle versies