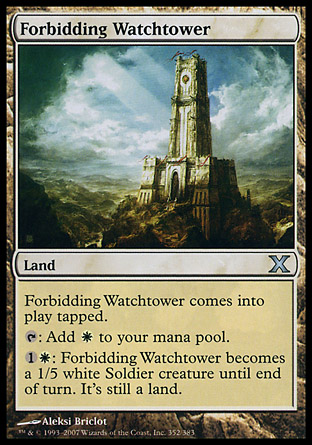 Oracle tekst

Land
Forbidding Watchtower enters the battlefield tapped.
T: Add W.
1W: Forbidding Watchtower becomes a 1/5 white Soldier creature until end of turn. It's still a land.

Rating na 0 stemmen

Er is nog niet op deze kaart gestemd.

NederMagic FAQ

Vraag: Wallpaper?
Antwoord: Ja, hier

Tournooi info

Legal in: Modern, Legacy, Vintage, Commander

Officiele rulings

8/1/2008
A noncreature permanent that turns into a creature can attack, and its T abilities can be activated, only if its controller has continuously controlled that permanent since the beginning of their most recent turn. It doesnít matter how long the permanent has been a creature.

10/1/2009
Activating the ability that turns it into a creature while itís already a creature will override any effects that set its power and/or toughness to a specific number. However, any effect that raises or lowers power and/or toughness (such as the effect created by Giant Growth, Glorious Anthem, or a +1/+1 counter) will continue to apply.



NederMagic denkt mee

We hebben alle decks op de site voor je doorzocht en gekeken welke 20 kaarten het meest met Forbidding Watchtower samen worden gespeeld.
Klik hier voor het lijstje

Geef commentaar op Forbidding Watchtower
Zoek decks met Forbidding Watchtower
Forbidding Watchtower toevoegen aan je watchlist:
Versie uit 10th Edition / Alle versies