Deep-Sea Kraken informatie
Serie: Time Spiral (TSP)
Rarity: Rare
Geef commentaar op Deep-Sea Kraken
Deep-Sea Kraken komt voor in
Serie
Normaal
Foil
Time Spiral

-

0,50

-

2,50
Commander 2014

-

0,60
Mind vs Might

1

0,60
Wie ruilt deze kaart

[]
Nickname
#
Foil
Hrethgir (73)
2
0
Ingmar (33)
1
0
Dennis
3
0
Stijn (129)
1
0
Stefan23 (0)
1
0
Bjorn Van der Zanden (53)
0
1
Bally (37)
1
0
Hans Kazan (23)
3
0
Jelle L (Zwolle) (131)
1
0
G-men (96)
1
0
erwin (30)
1
0
wouter (19)
4
0
Torec (85)
2
0
* Dit is het aanbod van Deep-Sea Kraken uit Time Spiral. Als een kaart in meerdere series zit kun je die apart aanklikken hierboven. Klik op de getallen om direct naar iemands collectie te gaan. De leden die het meest recent zijn ingelogd staan bovenaan. Leden die meer dan 14 dagen niet zijn ingelogd worden niet vermeld.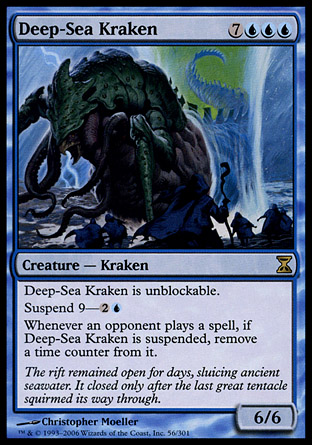 Oracle tekst

Creature - Kraken 6 / 6
Deep-Sea Kraken can't be blocked.
Suspend 9-2U (Rather than cast this card from your hand, you may pay 2U and exile it with nine time counters on it. At the beginning of your upkeep, remove a time counter. When the last is removed, cast it without paying its mana cost. It has haste.)
Whenever an opponent casts a spell, if Deep-Sea Kraken is suspended, remove a time counter from it.

Rating na 0 stemmen

Er is nog niet op deze kaart gestemd.

Tournooi info

Legal in: Modern, Legacy, Vintage, Commander

Officiele rulings

6/7/2013
You can exile a card in your hand using suspend any time you could cast that card. Consider its card type, any effect that affects when you could cast it (such as flash) and any other effects that could stop you from casting it (such as Meddling Mageís effect) to determine if and when you can do this. Whether or not you could actually complete all steps in casting the card is irrelevant. For example, you can exile a card with suspend that has no mana cost or requires a target even if no legal targets are available at that time.

6/7/2013
Exiling a card with suspend isnít casting that card. This action doesnít use the stack and canít be responded to.

6/7/2013
If the spell requires any targets, those targets are chosen when the spell is finally cast, not when itís exiled.

6/7/2013
If the first triggered ability of suspend (the one that removes time counters) is countered, no time counter is removed. The ability will trigger again during the cardís ownerís next upkeep.

6/7/2013
When the last time counter is removed, the second triggered ability of suspend will trigger. It doesnít matter why the last time counter was removed or what effect removed it.

6/7/2013
If the second triggered ability of suspend (the one that lets you cast the card) is countered, the card canít be cast. It remains exiled with no time counters on it, and itís no longer suspended.

6/7/2013
As the second triggered ability resolves, you must cast the card if able. Timing restrictions based on the cardís type are ignored.

6/7/2013
If you canít cast the card, perhaps because there are no legal targets available, it remains exiled with no time counters on it, and itís no longer suspended.

6/7/2013
If the spell has any mandatory additional costs, you must pay those if able. However, if an additional cost includes a mana payment, you are forced to pay that cost only if thereís enough mana in your mana pool at the time you cast the spell. You arenít forced to activate any mana abilities, although you may do so if you wish.

6/7/2013
A creature cast using suspend will enter the battlefield with haste. It will have haste until another player gains control of it (or, in some rare cases, gains control of the creature spell itself).



NederMagic denkt mee

We hebben alle decks op de site voor je doorzocht en gekeken welke 20 kaarten het meest met Deep-Sea Kraken samen worden gespeeld.
Klik hier voor het lijstje

Geef commentaar op Deep-Sea Kraken
Zoek decks met Deep-Sea Kraken
Deep-Sea Kraken toevoegen aan je watchlist:
Versie uit Time Spiral / Alle versies