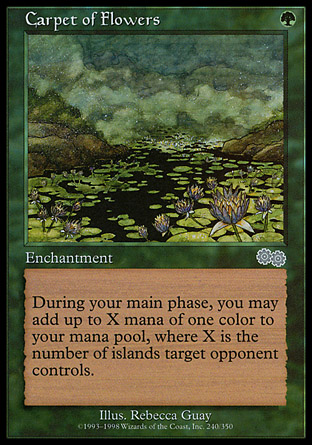 Oracle tekst

Enchantment
At the beginning of each of your main phases, if you haven't added mana to your mana pool with this ability this turn, you may add up to X mana of any one color to your mana pool, where X is the number of Islands target opponent controls.

Rating na 3 stemmen












Tournooi info

Legal in: Block, Legacy, Vintage, Commander

Officiele rulings

10/4/2004
You can add less than X mana if you want, even zero.

10/4/2004
You can target a different opponent each turn.

10/4/2004
The ability is not a mana ability.



NederMagic denkt mee

We hebben alle decks op de site voor je doorzocht en gekeken welke 20 kaarten het meest met Carpet of Flowers samen worden gespeeld.
Klik hier voor het lijstje

Geef commentaar op Carpet of Flowers
Zoek decks met Carpet of Flowers
Carpet of Flowers toevoegen aan je watchlist:
Versie uit Urzas Saga / Alle versies