Oko, Thief of Crowns (A) informatie
Serie: Throne of Eldraine (ELD)
Rarity: Mythic
Geef commentaar op Oko, Thief of Crowns
Oko, Thief of Crowns komt voor in
Serie
Normaal
Foil
Throne of Eldraine (A)

-

44,95

1

99,95
Throne of Eldraine (B)

-

44,95

-

124,95
Wie ruilt deze kaart

[]
Nickname
#
Foil
Dirk (44)
4
0
Stein (53)
1
0
cmpunk (69)
0
1
JelleMartijn (0)
1
0
* Dit is het aanbod van Oko, Thief of Crowns uit Throne of Eldraine. Als een kaart in meerdere series zit kun je die apart aanklikken hierboven. Klik op de getallen om direct naar iemands collectie te gaan. De leden die het meest recent zijn ingelogd staan bovenaan. Leden die meer dan 14 dagen niet zijn ingelogd worden niet vermeld.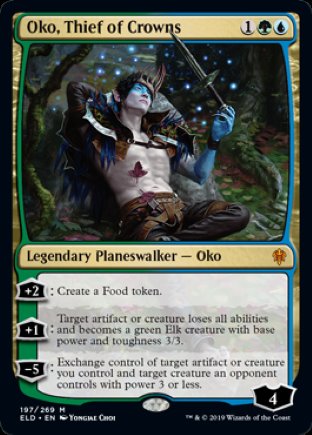 Oracle tekst

Legendary Planeswalker - Oko
+2: Create a Food token. (It's an artifact with "2, T, Sacrifice this artifact: You gain 3 life.")
+1: Target artifact or creature loses all abilities and becomes a green Elk creature with base power and toughness 3/3.
-5: Exchange control of target artifact or creature you control and target creature an opponent controls with power 3 or less.

Rating na 1 stemmen












Tournooi info

Legal in: Standard, Modern, Legacy, Vintage, Commander

Officiele rulings

10/4/2019
The effects of Okoís second and third abilities last indefinitely. They donít expire during the cleanup step or if you or Oko leave the game. Okoís third ability doesnít expire if the creature you take has its power raised above 3 later.

10/4/2019
If the affected creature gains an ability after Okoís second ability resolves, it will keep that ability.

10/4/2019
Okoís second ability overwrites all previous effects that set the creatureís base power and toughness to specific values. Any power- or toughness-setting effects that start to apply after Okoís second ability resolves will overwrite this effect.

10/4/2019
Effects that modify a creatureís power and/or toughness, such as the effect of Festive Funeral, will apply to the creature no matter when they started to take effect. The same is true for any counters that change its power and/or toughness.

10/4/2019
Okoís second ability overwrites all colors and creature types the affected creature has. Itís just a green Elk. The creature keeps any supertypes (such as legendary) it has, but loses any other card types it has (such as artifact).

10/4/2019
Okoís second ability may target a permanent that is only temporarily an artifact or a creature, such as Oko, the Trickster. If this happens, the effect causes that permanent to remain a green Elk creature even after the temporary effect expires.

10/4/2019
Because damage remains marked on a creature until the damage is removed as the turn ends, nonlethal damage dealt to a creature may become lethal if Okoís second ability changes its toughness during that turn.

10/4/2019
If either of the target permanents is an illegal target when Okoís last ability resolves, the exchange wonít happen.

10/4/2019
Gaining control of a permanent doesnít cause you to gain control of any Auras or Equipment attached to it. Gaining control of an Equipment doesnít cause it to become unattached, although its new controller may activate its equip abilities during their main phase.

10/4/2019
Food is an artifact type. Even though it appears on some creatures (such as Gingerbrute), itís never a creature type.

10/4/2019
You canít sacrifice a Food token to pay multiple costs. For example, you canít sacrifice a Food token to activate its own ability and also to activate the ability of Tempting Witch.

10/4/2019
Whatever you do, donít eat the delicious cards.



NederMagic denkt mee

We hebben alle decks op de site voor je doorzocht en gekeken welke 20 kaarten het meest met Oko, Thief of Crowns samen worden gespeeld.
Klik hier voor het lijstje

Geef commentaar op Oko, Thief of Crowns
Zoek decks met Oko, Thief of Crowns
Oko, Thief of Crowns toevoegen aan je watchlist:
Versie uit Throne of Eldraine / Alle versies