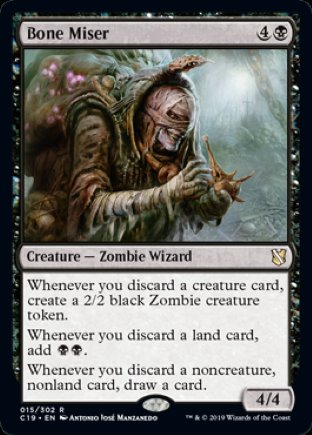 Oracle tekst

Creature - Zombie Wizard 4 / 4
Whenever you discard a creature card, create a 2/2 black Zombie creature token.
Whenever you discard a land card, add BB.
Whenever you discard a noncreature, nonland card, draw a card.

Rating na 0 stemmen

Er is nog niet op deze kaart gestemd.

Tournooi info

Legal in: Legacy, Vintage, Commander

Officiele rulings

8/23/2019
Bone Miserís abilities are triggered abilities, not activated abilities. They donít allow you to discard a card whenever you want; rather, you need some other way of discarding a card.

8/23/2019
Bone Miserís second ability isnít a mana ability. It uses the stack and can be responded to. Notably, this means that you canít pay a cost of ď2, Discard a cardĒ by discarding a land card and using the BB produced to pay for the 2.

8/23/2019
If you discard a card as a cost to cast a spell or activate an ability, Bone Miserís triggered ability resolves before that spell or ability but after youíve chosen targets for it. If you discard a card while a spell or ability is resolving, the triggered ability resolves after youíve finished resolving that spell or ability.



NederMagic denkt mee

We hebben alle decks op de site voor je doorzocht en gekeken welke 20 kaarten het meest met Bone Miser samen worden gespeeld.
Klik hier voor het lijstje

Geef commentaar op Bone Miser
Zoek decks met Bone Miser
Bone Miser toevoegen aan je watchlist:
Versie uit Commander 2019 / Alle versies