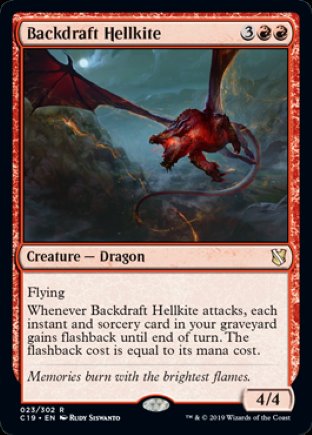 Oracle tekst

Creature - Dragon 4 / 4
Flying
Whenever Backdraft Hellkite attacks, each instant and sorcery card in your graveyard gains flashback until end of turn. The flashback cost is equal to its mana cost.

Rating na 0 stemmen

Er is nog niet op deze kaart gestemd.

Tournooi info

Legal in: Legacy, Vintage, Commander

Officiele rulings

8/23/2019
Only instant and sorcery cards in your graveyard when Backdraft Hellkite's triggered ability resolves will gain flashback. Instant and sorcery cards that are put into your graveyard later in the turn won't gain flashback.

8/23/2019
Once Backdraft Hellkite has attacked, its ability will resolve and grant the appropriate cards flashback even if Backdraft Hellkite leaves the battlefield before the ability resolves or after it resolves but before you cast the spells.

8/23/2019
If you cast an instant or sorcery with X in its mana cost this way, you still choose the value of X as part of casting the spell and pay that cost.

8/23/2019
If an instant or sorcery card in your graveyard already has flashback, you may use either flashback ability to cast it from your graveyard.

8/23/2019
You may pay any optional additional costs the spell has, such as kicker costs. You must pay any mandatory additional costs the spell has, such as that of Momentous Fall.

8/23/2019
For split cards, the flashback cost you pay is determined by the half you cast.



NederMagic denkt mee

We hebben alle decks op de site voor je doorzocht en gekeken welke 20 kaarten het meest met Backdraft Hellkite samen worden gespeeld.
Klik hier voor het lijstje

Geef commentaar op Backdraft Hellkite
Zoek decks met Backdraft Hellkite
Backdraft Hellkite toevoegen aan je watchlist:
Versie uit Commander 2019 / Alle versies