Bag of Holding informatie
Serie: Core Set 2020 (M20)
Rarity: Rare
Geef commentaar op Bag of Holding
Bag of Holding komt voor in
Serie
Normaal
Foil
Core Set 2020

2

0,75

-

2,40
Wie ruilt deze kaart

[]
Nickname
#
Foil
Stein (53)
1
0
elias alkmaar
1
0
Mees (4)
1
0
Patrick Schouten (6)
1
0
Brutalbert
1
0
Stefan Gordijn (3)
1
0
Ewan van Houten (7)
1
0
* Dit is het aanbod van Bag of Holding uit Core Set 2020. Als een kaart in meerdere series zit kun je die apart aanklikken hierboven. Klik op de getallen om direct naar iemands collectie te gaan. De leden die het meest recent zijn ingelogd staan bovenaan. Leden die meer dan 14 dagen niet zijn ingelogd worden niet vermeld.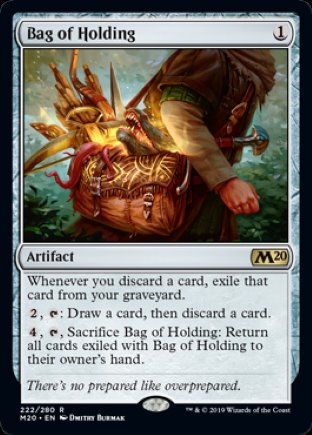 Oracle tekst

Artifact
Whenever you discard a card, exile that card from your graveyard.
2, T: Draw a card, then discard a card.
4, T, Sacrifice Bag of Holding: Return all cards exiled with Bag of Holding to their owner's hand.

Rating na 0 stemmen

Er is nog niet op deze kaart gestemd.

Tournooi info

Legal in: Standard, Modern, Legacy, Vintage, Commander

Officiele rulings

7/12/2019
If you discard a card but that card is not in your graveyard as Bag of Holding's first ability resolves, that card remains wherever it has moved.

7/12/2019
If you control more than one Bag of Holding, you choose which one will hold the discarded card. Other Bags of Holding can't return that card.

7/12/2019
You both draw and discard while Bag of Holding's second ability is resolving. No player may take any action-nor can anything else happen-until you've both drawn and discarded.

7/12/2019
If Bag of Holding is moved to exile when you sacrifice it (most likely due to Leyline of the Void's effect), it remains in exile. It won't be returned to your hand.

7/12/2019
If Bag of Holding leaves the battlefield, the items it contained are exiled forever (and, perhaps, scattered throughout the Astral Plane). If the same Bag of Holding card returns to the battlefield, it's considered a new object without access to the cards stored by the old object.



NederMagic denkt mee

We hebben alle decks op de site voor je doorzocht en gekeken welke 20 kaarten het meest met Bag of Holding samen worden gespeeld.
Klik hier voor het lijstje

Geef commentaar op Bag of Holding
Zoek decks met Bag of Holding
Bag of Holding toevoegen aan je watchlist:
Versie uit Core Set 2020 / Alle versies