Bloom Hulk informatie
Serie: War of the Spark (WAR)
Rarity: Common
Geef commentaar op Bloom Hulk
Bloom Hulk komt voor in
Serie
Normaal
Foil
War of the Spark

8

0,20

1

0,30
Wie ruilt deze kaart

[]
Nickname
#
Foil
Rogier (9)
3
0
Marcel (57)
4
0
DouPel (4)
1
0
Piet Kempenaar (10)
1
0
Rene Hoffmans
4
0
* Dit is het aanbod van Bloom Hulk uit War of the Spark. Als een kaart in meerdere series zit kun je die apart aanklikken hierboven. Klik op de getallen om direct naar iemands collectie te gaan. De leden die het meest recent zijn ingelogd staan bovenaan. Leden die meer dan 14 dagen niet zijn ingelogd worden niet vermeld.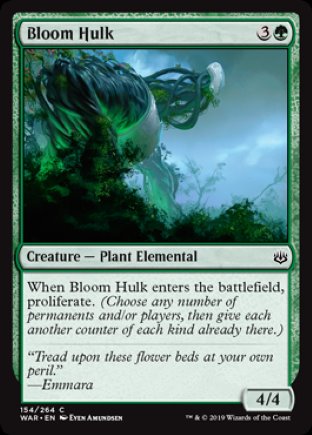 Oracle tekst

Creature - Plant Elemental 4 / 4
When Bloom Hulk enters the battlefield, proliferate. (Choose any number of permanents and/or players, then give each another counter of each kind already there.)

Rating na 0 stemmen

Er is nog niet op deze kaart gestemd.

Tournooi info

Legal in: Standard, Modern, Legacy, Vintage, Commander

Officiele rulings

5/3/2019
The War of the Spark set doesnít include any ways for players to have counters, but some cards in other sets say that a player ďgetsĒ a counter of a certain kind. Notably, emblems arenít counters.

5/3/2019
You can choose any permanent that has a counter, including ones controlled by opponents. You canít choose cards in any zone other than the battlefield, even if they have counters on them.

5/3/2019
You donít have to choose every permanent or player that has a counter, only the ones you want to add another counter to. Since ďany numberĒ includes zero, you donít have to choose any permanents at all, and you donít have to choose any players at all.

5/3/2019
Players can respond to the spell or ability whose effect includes proliferating. Once that spell or ability starts to resolve, however, and its controller chooses which permanents and players will get new counters, itís too late for anyone to respond.

5/3/2019
If a spell or ability puts counters on a player or permanent and then instructs you to proliferate, choosing that player or permanent will give that player or permanent another of those counters.

5/3/2019
Putting loyalty counters on planeswalkers doesnít cause their loyalty abilities to be activated.



NederMagic denkt mee

We hebben alle decks op de site voor je doorzocht en gekeken welke 20 kaarten het meest met Bloom Hulk samen worden gespeeld.
Klik hier voor het lijstje

Geef commentaar op Bloom Hulk
Zoek decks met Bloom Hulk
Bloom Hulk toevoegen aan je watchlist:
Versie uit War of the Spark / Alle versies